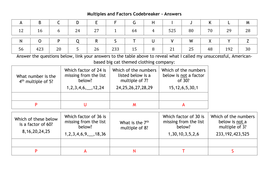 TES PICKS
Multiples and Factors Codebreaker
A really bad joke (I think I've surpassed myself with this one) but some practice on multiples and factors on this one. As I say on all of these they can be used as a starter, plenary, homework, discussion exercise, whatever you like basically.
About this resource
Info
Created: May 16, 2016
Other resources by this author
Dealing with inequalities from representing on a number line to solving to shading regions.
alutwyche
This is designed to take the students from simple expanding a bracket to simple factorising to multiplying out two brackets to factorising quadrati...
alutwyche
A powerpoint taking you from chance and probability lines, listing outcomes, the probabiliy of an event not happening and tree diagrams.
alutwyche
Popular paid resources
I created this code breaking maths lesson for an Ofsted observation. The children thoroughly enjoyed it and had so much fun (whilst still learning)...
jodieclayton
26 worksheets, sutable for year 3/4 to dip into regarding word problems and puzzles. Updated March 2018.
dave_orritt
This is a fun, engaging and creative lesson with shape. The lesson has been successfully used to apply knowledge of shapes in a year 2 setting. Chi...
rehanafazil
Updated resources
Randomly generated number questions for use on an interactive whiteboard. Questions are randomly generated in Excel file and linked to a PowerPoint...
RUN DMC
A set of 9 basic arithmetic tests, with answers, which can be used each term for pupils in Key Stage 3. Files are updated on a regular basis and fe...
RUN DMC
This bundle contains: A Doubling and Halving Board Game Doubles and Halves Word Problems Doubling and Halving Function Machines Doubling and Halvin...
juliannebritton