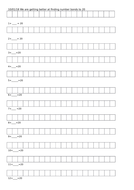 Number Bonds to 20 Bar Modelling
Bar modelling worksheet to help children visualise the number bonds to 20. It really helped my class!
By adding a School licence it allows you to share this resource with colleagues at your school. Without it, this resource is licensed for use only by you. Read licence details
Other resources by this author
Arithmetic worksheets to help fluency in counting in twos, fives and tens. Scooby Doo themed!
kennykoalabear
A simple introduction to finding half of an amount of money. Differentiated with coins up to a 20p piece.
kennykoalabear
Differentiated worksheets for children to count how many items there are and find half.
kennykoalabear
Popular paid resources
This pack of resources covers Year 2 place value for the first week of the autumn term. The resources support a mastery approach to teaching mathem...
RustyMaths
Flip- chart moves through stages of multiplication as repeated addition and then an array. Can be made more practical (fun) by having a collection ...
jreadshaw
Hello again. Here is my first week of planning and resources to go with the White Rose Maths scheme of learning for Year 1, Summer Block 1,Multipli...
tg11
New resources
A PowerPoint giving information about the 2018 Winter Olympics, South Korea and the events involved etc. Resource also includes a lesson plan and K...
Jemmab100
This is pack 1 of 3 on Year 1 place value for the spring term and covers the small steps: - Numbers to 50 - Tens and Ones - Represent Numbers to 50...
MKConnolly
A simple number assessment grid so you can highlight whether a pupil can recognise a numeral. Simply type or write the pupil's name in the left han...
teacher-daniel
Updated resources
Beginning French Numbers (Les Nombres / Les Numeros) to 100 well-differentiated printable bingo / lotto games. Includes simple number match and men...
FullShelf
Update - Clock hands on homework sheet now visible. This is a bonus pack for Year 2 - Time - Summer - Block 3 - weeks 6 & 7 Please see: Week 6...
Thedigitalstationer
This is pack 1 of 2 for the Year 2 - Measurement - Time (Block 3). This pack covers week 6. Please see: Week 7 , Bonus pack or Bundle (save 40%!) I...
Thedigitalstationer