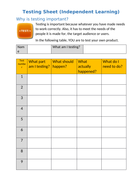 Testing and Review Sheet
A double sided / 2-page document that is used for testing and peer reviewing a product or item. The testing and review is general purpose and can be applied to most items that have been developed or created, including programs / software.
Aimed mainly at KS3 students but can also be used with KS4 students and easily adaptable if required.
Read more