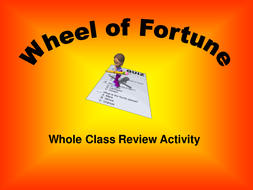 The Wheel- Plenary or starter activity for MFL
the wheel ! My students love it ! try it to try and see who remembers what, the numbers could be allocated to students who are picked to answer questions about the lesson or could be hiding a question about the lesson. Can be class or peer activity ! Bonne chance
Other resources by this author
I tried to select a nice topic and theme to teach and revise various skills and grammatical aspects . It links to Expo3 ( la Normandie ) rouge with...
skiermeetsboarder
Title speaks for itself, can be used with a whole range of groups and subjects
skiermeetsboarder
the wheel ! My students love it ! try it to try and see who remembers what, the numbers could be allocated to students who are picked to answer que...
skiermeetsboarder
Popular paid resources
Perfect lesson to go with Studio 1 pages50 and 51. I added a reading with 8 questions, a writing, a matching task and a vocab task. Perfect cover l...
cathy004
48 DIFFERENTIATED QUESTIONS TO HELP YOUR STUDENTS REALLY GET TO GRIPS WITH DAYS, MONTHS, SEASONS AND DATES AT THE VERY BEGINNING OF THEIR FRENCH LE...
LivelyLearningClassroom
"REACH THE SKY FRENCH GCSE SKILLS" Revision Mat GCSE French designed for students to enable them to reach their potential. New specification for ex...
infotime4languages
Updated resources
Quel temps fait-il? Beginning French Weather Vocabulary speaking and writing pack featuring a lesson plan, presentation and a range of games and ac...
FullShelf
Beginners French Numbers to 100 (Les Nombres / Les Numeros) printable self-checking mental maths trails, each featuring 12 addition, subtraction, m...
FullShelf
Beginning French Numbers to 100 printable games: 6 gameboards for French Maths Four in a Row, with differentiation, plus 4 Jigsaw Puzzles (in PDF)....
FullShelf