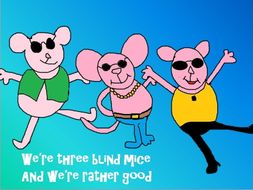 Three Cool Blind mice A pop song with easy percussion. non specialist. Plus art, listening etc.
Resources contain
1. PowerPoint presentation of the song "Three cool blind mice" inspired by the mice from Shrek. Parts for simple percussion (Tappers, clapping, drum)
2. Video of the above if you prefer
3. PPT of the original three blind mice. (Links to YouTube for music to listen /move to. Ideas for follow up and origins of the nursery rhyme.
4. Mp3s of Three Cool Blind mice (backing and voice)
5. Bordered display sheet to showcase children's own art.
About this resource
Info
Created: Aug 2, 2016
Updated: Feb 22, 2018
Get this resource as part of a bundle and save up to 24%