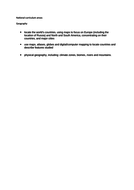 World Cup activities linked to KS2 Geography objectives
Three different activities: each activity would be more than 1 lesson long for younger children, but each may last for an hour with Year 6 children. Focuses on key areas from the Geography curriculum. All activities are research based so would require laptops/ Ipads to complete. Focuses on the countries that will be taking part in the World Cup: locating the countries, capital cities, facts about the physical geography, matching flags to countries. Two activities come with answer sheets, the 3rd activity is open ended therefore the answers would have be checked (perhaps cross checked with another pupil who has chosen the same country).
National curriculum coverage is included.
Read more