Advanced PE
Physical Education, Sports and Fitness resources
82Uploads
16k+Views
3k+Downloads
Physical Education, Sports and Fitness resources

Powerpoint for GCSE PE, specific to AQA spec but can be adapted. Socio-cultural influences, section 3.2.2.1 with tasks and past paper questions, can be adapted

This is a guide and written task for preparation of A Level PE coursework and more specifically the EAPI for OCR spec. A paired video can be found on Youtube - sea this resource includes the powerpoint and workbook

A power point presentation with embedded teaching and learning strategies/tasks for the components of fitness, GCSE PE. designed for AQA board but can be adapted.

A level PE Power Point 2 x 5 mark feedback marksheets (or can be used to structure answers) 1 x 10 mark essay/answer planner Feedback sheets relate to past paper questions on powerpoints and the 2nd 5 mark question is adapted to COPD The impact of training on lifestyle diseases. designed for OCR spec but can be used for most covers respiratory and cardiovascular diseases/conditions 19 slides, with information, facts, definitions, tasks and past paper questions. created by OCR moderator save yourself hours of work

39 page powerpoint - energy systems designed for A Level PE OCR spec but applicable and adaptable to all covers the 3 energy systems in detail contains tasks, pixl strategies, short questions and past paper questions change objectives and outcomes as you wish note: OCR call the lactic acid sytem the glycolytic system now. designed by OCR moderator and experienced practitioner this would last 3-4 1 hour lessons (plus more time for past paper questions) you could show appropriate videos from youtube to help understanding worksheet to follow save hours planning and take your lessons to the next level with this outstanding and professional powerpoint presentation.

Energy, diet, nutrition and hydration GCSE PE power point made for AQA spec but easily adapted 10 animated slides with teaching and learning strategies slide 8 can be used as a quiz or discussion or specific learning activity

9 page powerpoint of goal setting and SMART targets. GCSE PE, aimed at AQA spec but all similar on this topic adds strategies/tasks to suit. could set flipped homework and start with tasks finish lesson with past paper questions and analysis

Section - Preparation and training methods, Intro to types of training and 30 page power point of Aerobic capacity, training, testing and adaptations. includes basic VO2 max factors worksheet and challenge questions (cut and provide to more able) includes past paper question and development of full mark answer you can add included thinking hard tasks to suit class can also be used as a flipped learning homework and then focus on extended writing and AO2, AO3 in class designed for OCR A Level PE but applicable to all boards this will save your hours of work

Biomechanics - Newton's laws and key calculations. Past paper questions and tasks. Learning objectives and outcomes relate to the whole biomechanics unit. designed for OCR A Level by OCR moderator. Can be used/adapted to other boards. includes worksheet/table for filling out info on basic concepts/calculations.

Angular motion - A Level PE 21 page powerpoint on Angular motion, angular velocity, moment of inertia, axes of rotation and angular momentum. includes exam style questions, some with exemplar answers and others with essay plans. This is a tough section of the course but I have tried to make it simple and enjoyable for pupils with this animated and interactive powerpoint. designed for the OCR spec but adaptable change slides, add objectives etc as you wish.

Technology in sport. GCSE PE Comprehensive powerpoint Includes thinking hard strategies/tasks that can be used throughout (or not at all) Worksheet provided Past paper questions and mark schemes to finish topic Designed for AQA spec but can be adapted Can use as a flipped learning task and then work on questions Or just use how you feel best or what works for your amazing pupils.

The Principles of Training - GCSE PE Great looking powerpoint with smaller task question throughout and a longer question at the end with a guide to answering. SPORT and FITT designed for AQA spec but can be used/adapted to all

Guidance and Feedback power point for GCSE PE. 17 slides with tasks and past paper questions. Can use partly as a flipped learning task. Adapt as you wish for your specific class. Get pupils thinking. designed for AQA but applicable to most boards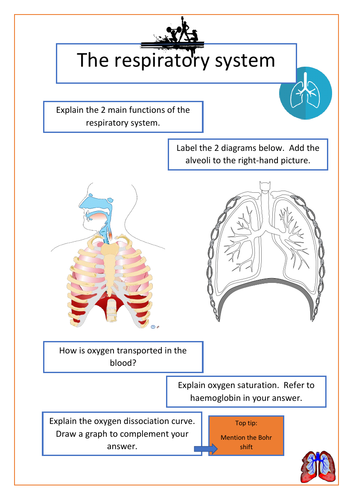 Respiratory System - A Level PE (OCR but applicable to most) Worksheet with 5 questions and 2 diagrams to label can be used for flipped learning, cover lesson or questions as you go through a visual guide.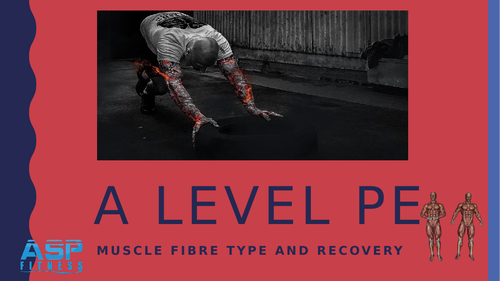 Short 6 slide presentation on muscle fibre types and recovery includes several tasks and discussion points. this is just a small section in the muscular system section adapt for your teaching and your pupils

Acute and Chronic Injuries - A Level PE designed for OCR spec powerpoint worksheet video if you want to use it or set flipped homework This is for the first section of Injury prevention and rehab. Powerpoint covers types of chronic and acute injuries with examples. Treating injuries is not on this pp as that would be covered in the next lesson. animate as you wish, add and take away as you wish

Powerpoint with Questions and tasks for: Rehabilitation of Injury - A Level PE designed for OCR spec but adaptable to other This is for the last section of Injury prevention and rehab of injury see shop for other sections (acute and chronic injuries, injury prevention and responding to injuries) 15 slides including 5 slides of exam questions and summary questions (for whole injuries topic) use as a whole lesson or flipped learning or however you think will work best for your students.

Powerpoint with embedded teaching strategies designed for AQA GCSE PE specification (but can be adapted) topic: The relationship between health and fitness (Physical Training) Includes current affairs on the topic (currently Andy Murray in the Aussie Open) that should be updated depending on wahts happening in the world of sport. Also includes thinking hard strategies and extended tasks

A Level PE Ergogenic Aids (designed for OCR spec but applicable to most) covers pharmacological, physiological and nutritional aids. includes activities and tasks within PP. Includes past paper question examples. you will need to also cover nitrates, creatine, bicarbonate and caffeine for the OCR spec. designed by OCR moderator and experienced curriculum leader. Save yourself hours of work. *now includes a worksheet of questions. You can differentiate this depending on your learners, add challenge tasks or prompt sheets etc

This is 1 of 3 powerpoints covering diet and nutrition for A level PE This one includes info on Minerals, Fibre and Water. I have separate power points on The macro-nutrients vitamins exam style questions - nutrition there is also a video to go with all of these. I commonly use these for flipped homework, independent study or as a visual aid in lessons