International Teaching Practice
Develop your staffs' essential skills for international teaching
An online programme to help international school staff improve their teaching practice and pedagogy. 
Develop your staffs' essential skills for international teaching
International Teaching Practice can help your school:
Raise the quality of teaching in a flexible and cost effective way

Support the various cultural requirements of your pupils and their parents

Provide teaching staff with knowledge of recognised best practice

Provide staff with training from a leading, accredited English teacher training provider
Equip your staff with the knowledge to succeed
In today's fast-changing global education landscape you need to ensure that your international school teachers have the knowledge, experience and skills to provide your students with a world-class education.
Drawing upon UK best practice, our International Teaching Practice programme will support your teachers to become reflective practitioners and develop their classroom skills and knowledge within an international and intercultural school context.
Our International Teaching Practice programme is ideal for teachers who are looking for an introductory programme to teaching in an international school. Although the programme draws on best practice from the UK curriculum it can be applied to other English language curricula.

Your staff don't need to have any formal teaching qualifications or experience of teaching the UK curriculum to join this programme. As the course is delivered in English, they will need to have a reasonable understanding of the English language. Additional materials such as our glossary of key terms in Mandarin, Spanish and Arabic will provide them with extra support with translations. 

The programme covers eight key sessions: reflective practice, understanding cultural context, managing parent's expectations, personalised learning, inclusive practice, adaptive teaching, lesson planning and assessing pupil's work, plus primary and secondary specific content catering to the different age groups and their learning needs.

The programme is delivered as a 12-week, self-guided course and learners have access to the content for one year. It's delivered online via our digital platform and equates to around 10 hours a week of study. 
Do your staff need some extra support with translations?
Our programme is delivered in English but it comes equipped with a glossary of terms in Arabic, Mandarin and Spanish so your staff can expand their English vocabulary while developing their teaching practice.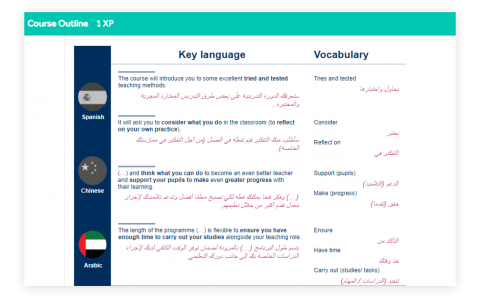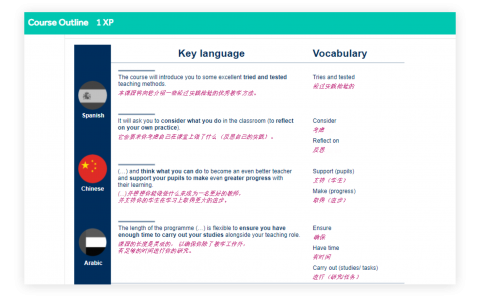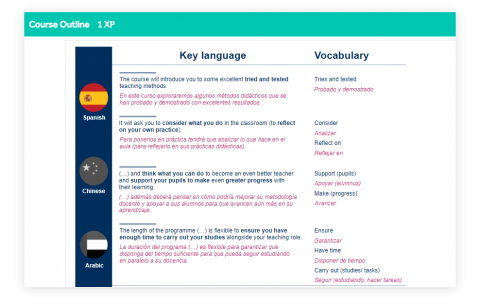 Develop reflective practitioners
Our eight-week, self-guided programme is delivered in English and each session has a glossary of key terms in Mandarin, Spanish and Arabic to provide your staff with extra support with translations. At the middle and end of the course they'll be asked to submit a reflection on practice. When they finish the course, they'll receive a completion report containing feedback and suggestions for development followed by a certificate on completion. 
Our per-learner price is £500 (plus VAT)* with discounts of up to 30% for groups, contact us to find out more.
*Subject to exceptions, VAT will be charged at the rate of 20 per cent.
Thoughts from our schools
The International Teaching Practice course is a wonderful stepping stone for practitioners to progress to the iPGCE. My teaching staff found the course extremely informative and supportive. It gave them an insight into the British curriculum and core values in the classroom. This has helped enhance their knowledge and understanding of how a UK trained teacher approaches the class and the curriculum. 
Get in touch
Want to find out more about our International Teaching Practice programme? Fill in our short enquiry form and get tailored advice from the Tes Institute team today.
Call +44(0)203 194 3200 or register an interest using the form below.
Tips and guidance to support schools
We've gathered together top tips, guidance and support for schools who are thinking of using our programmes as part of their retention and development strategy.
Discover more about Tes Institute
Tes Institute is an accredited Initial Teacher Training provider and has qualified more than 2,000 teachers in over 800 schools.