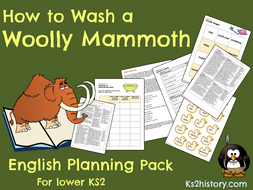 'How to Wash a Woolly Mammoth' Planning Pack (Stone Age Instructions Unit)
Updated for 2017/18! Download our popular two-week unit of work for Years 3/4 based on the book 'How to Wash a Woolly Mammoth', with a focus on instructional texts. Great for linking the Stone Age topic in literacy!

Problems downloading? Click here for download help

This unit gives children the opportunity to understand the features of instructions as a text type. In the first week, children will engage with the text through research, a hands-on toy washing challenge and the opportunity to create their own 'Woolly Mammoth Cleaning Kit'. They will become familiar with the text type by following instructions to make their own mammoth models and identifying features of the text. There is a grammar focus on using prepositions and imperative verbs.

In the second week, pupils will use drama to develop ideas and extend vocabulary. They will then plan their own set of instructions and they will draft, edit and present their final written outcome.

The literacy objectives covered are:

To retrieve and record information from non-fiction
To participate in discussion about a text
To use a range of imperative verbs
To use prepositions
To read and follow written instructions
To identify the features of instructions
To identify how language, structure and presentation contribute to meaning
To prepare a group performance
To use a rich and varied vocabulary
To make a plan for my writing
To write my own set of instructions
To edit and evaluate my writing
To integrate visual devices

The PDF file contains 10 full lesson plans and accompanying pupil resource sheets.

You may also like:
Stone Age Boy Literacy Planning

Stone Age to Iron Age Resource Pack

Stone Age to Iron Age planning bundle of all 3 packs

Please follow the steps below to access your files:
1. Return to this page.
2. Scroll to the files included within the resource listed under the header 'Files Included'/'All Files'. You may need to click on the 'See all Resources' to view them all.
3. Use the download arrow icons found to the left of each of the file names for each separate file.
Read more