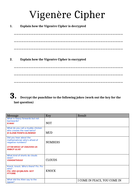 [IGCSE] Vigenere Cipher Tasks
Activity to practice encoding and decoding messages with the Vigenere Cipher
Read more
Other resources by this author
This is possibly my most favourite piece of work to do with the students. I do it as an end of year activity when they are a bit more confident wit...
PaperAirplane
One of the areas of the national curriculum that we should be introducing students to is RECURSION. This is an excellent activity to introduce that...
PaperAirplane
A few of my revision activities bundled together which were previously listed separately which were highly downloaded. Fill in the blanks activity ...
PaperAirplane
Popular paid resources
A Mathematical Investigation Assessment Item for Year 8 & 9 looking at algorithms with Excel and Python.
ianfrancishailes
This resource was developed for Advanced Higher Computing Science (Scottish Curriculum). It describes a linked list and works through the implement...
A_Cowie
Worksheet for IGCSE computer science Logic Gates unit, covers all spec points in unit.
Stephens1412
Updated resources
Kodu is a friendly graphical programming language where students can build their own world and program objects within. This series of lesson uses k...
chris_vidal
LOVELY RESOURCE WITHIN WHICH PUPILS HAVE TO MANUALLY WRITE OUT THE FORMULAE THAT WOULD BE USED TO GAIN THE CORRECT ANSWER FROM A SCREEN DUMP. REALL...
tesmny
Created this DIRT sheet for my Year 8's but can be used for any year group. SIMPLE TO FOLLOW Teacher can look through their scratch projects and ti...
LUKEB82