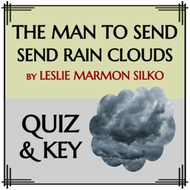 "The Man to Send Rain Clouds" by Leslie Marmon Silko - Quiz & Key
This is an 8-question quiz in short-answer format. Six questions are designed to measure reading comprehension/recall. One question requires students to draw inferences about character beliefs, and one more requires students to apply comprehension of a common literary device.

This item is great for post-reading assessment, or even as a comprehension guide while reading.
Read more