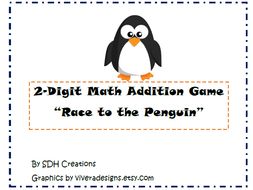 2-Digit Addition Game: Penguin Themed
This is an addition game to practice 2-digit addition. The addition game is called "Race to the Penguin" and includes the game board, Center card and 47 Penguin cards with 2-digit addition problems. The cards include 2-digit problems with and without regrouping (just choose which cards to use with the game). The sums are from 31 to 40.
For Race to the Penguin, you will need to tape the game boards together. Both sides of the game board should have the same numbers. There is an A and a B side for each set. I suggest you laminate these and have the children use vis-à-vis markers (or another erasable marker).

Thanks!
Read more