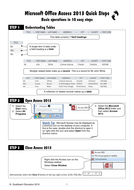 Access Databases 2013 Quick Steps Training Guide
This guide covers 20 A4 pages (single-sided) printed in colour using a visual style with images and callouts. The guide is designed to cover the most useful and popular operations within the Access 2013 software application that a user might need to know and is presented in 10 steps per operation (e.g. Basic operations, Formatting, Editing etc). The guide is useful for anyone wanting to get their heads around using Access 2013 and as a handy reference guide for ICT programmes of study (e.g. ECDL and other L1/L2 ICT qualifications).

The guide covers basic operations (openng, creatng a new database/table, closing, printing etc), editing a database, working with tables, relationships, queries, wildcards, forms and reports.
Read more