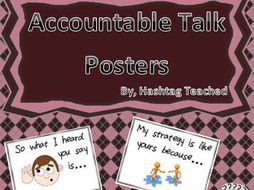 Accountable Talk Poster Set (w/ personal student reference sheets)
Check out this fun and relatable accountable talk poster set. Using these prompts, students will be able to engage in constructive conversations that are meaningful and promote depth of knowledge thought. As these are implemented, students will begin thinking more critically and challenging thoughts, not people.

There are 8 posters included that are meant to be laminated and hung. I would also suggest printing it on different color paper if possible. There is a bonus one pager that has all 8 posters in mini size for students to have their own sheet to relate to!
Read more