Hashtag_Teached's Shop
"Education is the most powerful weapon which you can use to change the world" - Nelson Mandela
331Uploads
38k+Views
1k+Downloads
"Education is the most powerful weapon which you can use to change the world" - Nelson Mandela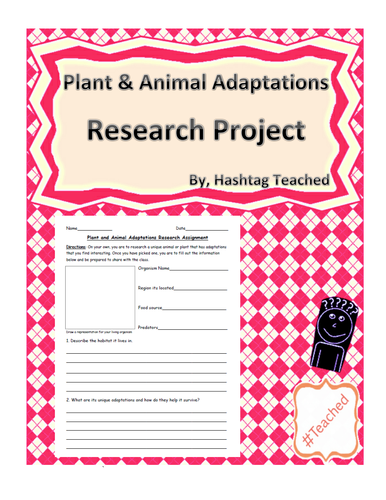 Check out this awesome, and easily integrated mini research assignment to help students develop their knowledge of plant and animal adaptations (I've also used it with insects as students choose). You can either assign a variety of organisms for students to research, or allow them to use a site like kidrex.org to find their own examples and approve it before they complete their worksheet. Students are to use their textbook, articles, and most importantly the internet to fill in a variety of questions about their specific organism. Vocabulary included here are things such as region, predators, habitat, adaptations and more. Students will love the autonomy and freedom to control their own learning and explore specific animals and plants that interest them and will explore the adaptations that help them survive and reproduce. For an added element, I have the students present their worksheet to the class so the class can preview a variety of other organisms as well! The rest of the class can use the presentations as guided notes with the attached Notes Sheet (you can check out a sample of this in the preview as well).

This awesome week along (adjustable) project allows students to collaborate and explore a specific simple machine on their own and own their own education. Students will work together to create a presentation of their choice on a specific topic such as wedge, wheel and axle, lever, and screw. A rubric is attached. Check out my Simple Machine Exit Ticket.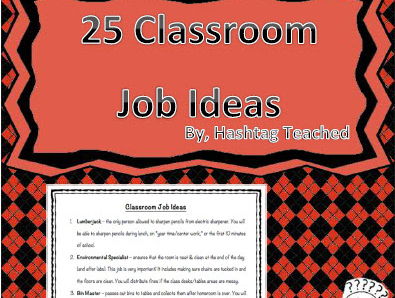 Finding that your unable to complete all of the tasks in your classroom? Start delegating to your minions! This empowering assignment will allow your students to take leadership roles, and feel a part of the classroom in a way they had never felt before. Aligned with the 7 Habits, students can complete at least 70% of the tasks and roles that adults have, so why not give them the opportunity to be successful!

Check out this simple and user friendly template that students can use to take notes on Natural Disasters. It is intended to guide a research project where students either seek their own knowledge on their internet or is supplemented with teacher instruction. Students will fill in a variety of natural disasters that have been pre-listed and then explain various components of them such as their description, their potential impact, their root causes and the safety measures that should be in place!

Check out this simple yet effective note taking template that students can use to record major take-aways while reading. Limiting big ideas to six key elements, students will be forced to synthesize their text and organize their ideas. Students are given a small space to record their thoughts as well as a space to draw a small representation of that idea. This user-friendly and self explanatory template has the capacity to increase comprehension, be used for evidence from the text and so much more as it is adapted to your classroom! Please feel free to leave feedback on how you used it in your classroom!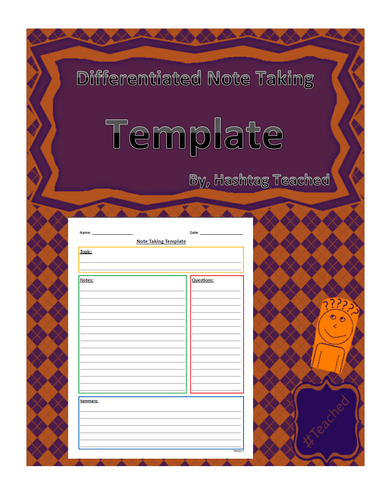 This simple and student friendly template is designed to facilitate student note taking. The format is customized from Cornell Notes and adapted for success for students at all levels. This product comes with 4 differentiated versions that include different line spacings, bullet points, and empty spaces to meet the needs of all students in your classroom! Check out my alternative Note Taking Templat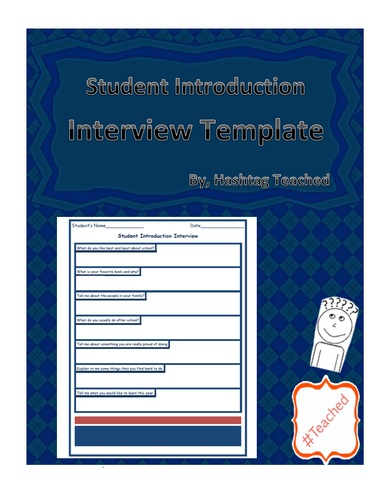 Check out this awesome and simple interview template that can be used to get to know your students! This is an awesome activity to sue the first weeks of school to help build relationships, rapport, and understandings. This can be adapted for students to interview each other, for the teacher to interview the students, or for the students to fill out on their own. Because of the variety of formatting of implementation, this is easily differentiated!

This simple BINGO template is easily customized with a word bank for any fun classroom activities! Teachers will supply the students with a word bank, and students can then place the words wherever they wish on the board template. Once all student have used all the words, the teacher will then describe or define the word - students can then cover their words with cut construction paper, chips, counters etc.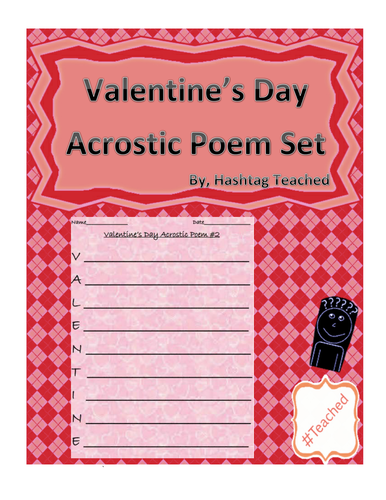 Check out this awesome set of Acrostic Poems all associated with Valentine's Day! You will find 11 different poems that can easily be distributed to different students for easy differentiation. Students will love to engage with this interactive activity and will be proud to have their work displayed in the classroom! Be sure to check out my store and my other Acrostic Poem sets!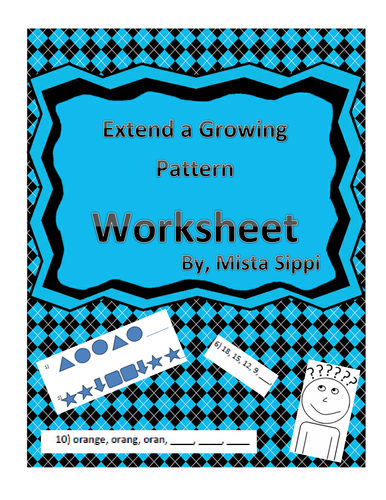 This printable worksheet offers a great variety for students to practice their growing patterns. The worksheet includes shapes, numbers, and words. This can be used in a variety of forms such as homework, classwork, quiz, group work and more! 3.NBT.A.2, 3.OA.D.9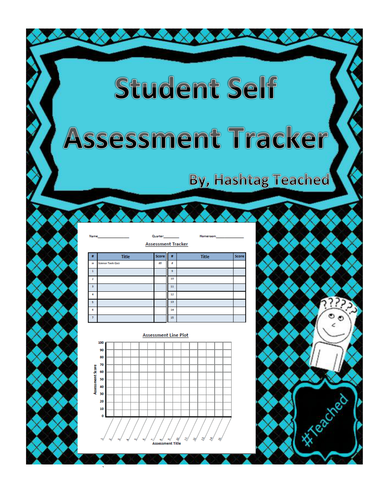 Aligned with programs like Leader in Me where students take ownership over their own learning as well as the researched supported by John Hatties, there is an increase in achievement when students understand where they are in the learning process. This awesome tracker allows students to track their own assessment results in a table and then plot it onto a line plot. Students will improve in proficiency with data analysis, graphing as well as take ownership over their growth!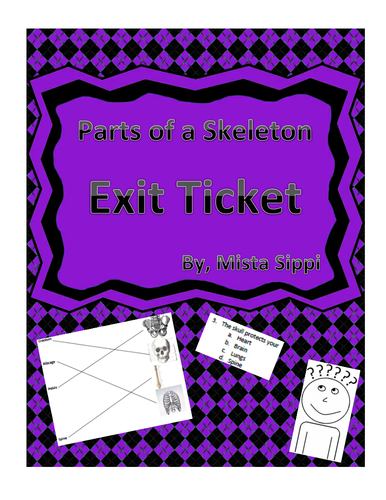 This five question exit ticket assessment covers the skeleton with a variety of fill in the blank, matching, and multiple choice. the topics covered are the cranium, spine, pelvis, rib-cage and the purpose of those parts. This exit ticket is meant to be a quick assessment of student content attainment.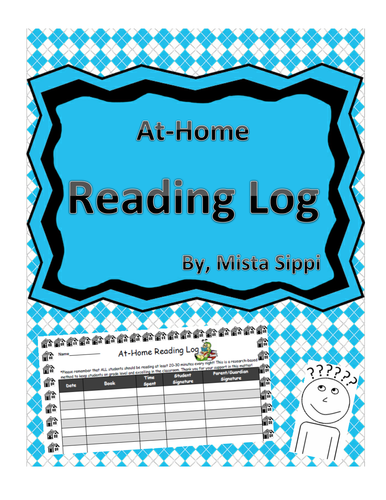 This fun and simple reading log can be sent home with each student in which the student self-records their nightly reading. Once complete the student can turn it in for a prize or simply for teachers to have documentation and record progress.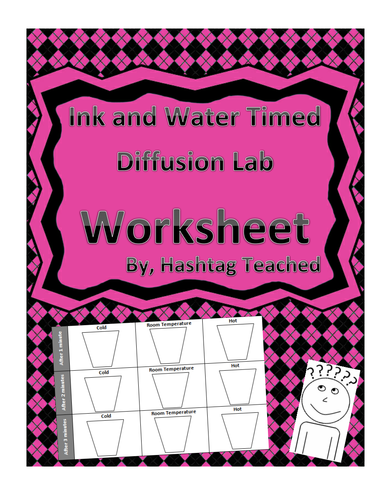 This simple but effective lab allows students to observer and draw inferences about diffusion. Students will need three cups set up that are each of the following temperatures (warm, cold, and room temperature). They will need to put one drop of food coloring in each at the same time as well as start a timer once they do so. In one minute increments, the students will record what they see for three minutes total. Students will then reflect on the diffusion of the food coloring being compared in each of the three temperatures. The temperature component can be connect to dissolving easily and the recording change over time is also important. Materials needed: clear cups (3 per group), some way to both lower and raise temperature of the water prior to experimentation, food coloring, and a timer.

This 14 question assessment provides insight into students' understanding of scientific inquiry. It covers topics of the difference between an observation and an opinion. It alos looks at topics that describe how the five sense can be used as well as simple experiment set ups. It looks at predictions as well as basic science tool usage. IT also looks at descriptions of things like size, shape, color etc. These variety of questions are presented in forms of multiple choice and short answer. An answer key is included.

This graphic organizer facilitates students planning for writing a summary or paragraph. Following the five sentence template, students will be prompted to think through various components that should be included such as a topic sentence, supporting details, and a conclusion sentence. The file comes in three different formats that can be used to differentiate and meet student needs with open spaces, bullet points, and lines. Using this template will organize the thoughts and ideas of your students to make their paragraphs far more developed and meaningful.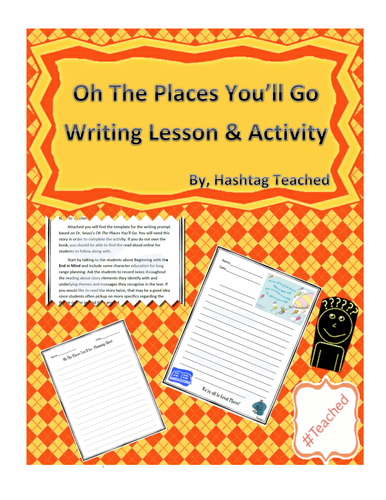 The lessons in Dr. Seuss's Oh The Places You'll Go story are invaluable and offer a great text example of beginning with the end in mind as we think through our decisions. This fun and engaging lessons pushes students to identify various story elements such as theme, key ideas, textual based answers as well as creative writing based on text to self connections. Students will respond to a supplied prompt relating the story to the students and having them think about where they want to go! Included are instructions for the teacher, a sloppy-copy planning sheet and then 4 differentiated final copy templates in which the teacher can easily give different students one of the variety of templates that best fits the need of each student (there are version labels on the bottom right of each template). This has proven to be a great reflective process to use during the first week of teaching since it can be the driving force of motivation throughout the year; it can easily be used at any point that fits your schedule though! *Also an ideal way to infuse reading and writing, to celebrate Dr. Seuss's Birthday! W.2.3, W.2.5, W.3.1, W.3.2, W.3.3, W.4.1, W.4.2, W.4.3, W.4.4, W.5.1, W.5.2, W.5.3, W.5.4, W.6.1a, W.6.2, W.6.3, W.6.4, W.6.9, W.7.1, W.7.2, W.7.3, W.7.4, W.7.9, W.8.1, W.8.2, W.8.3, W.8.4, W.8.9, W.9-10.1, W.9-10.2, W.9-10.3, W.9-10.3a, W.9-10.4, W.11-12.1, W.11-12.2, W.11-12.3, W.11-12.9, W.3.1b, W.3.1c, W.3.1d

Check out this extensive list of adjectives and verbs that can be used to spice up your report cards! This list can be used to make your report card writings to parents far more impressive and unique. These terms can describe students and offer more accurate insight for parents.

Check out this free task Card template! It comes in a variety of background colors to fit the need of your product. Each of the 10 variations has clear borders and lines to be cut out on which suits four task cards per page. I ask that you give my store a look over and share if you feel so inclined! You can access it by CLICKING HERE. Happy shopping and happy selling!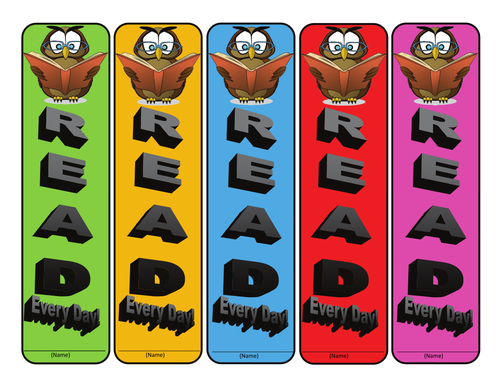 Please enjoy these printable bookmarks. I would suggest printing on card stock, construction paper, or laminating printer paper in order to increase the longevity. Students will love the fact that they can put their names on it, and the bookmark will serve as a constant reminder that students should read EVERY day!