Hashtag_Teached's Shop
"Education is the most powerful weapon which you can use to change the world" - Nelson Mandela
331Uploads
16k+Views
767Downloads
"Education is the most powerful weapon which you can use to change the world" - Nelson Mandela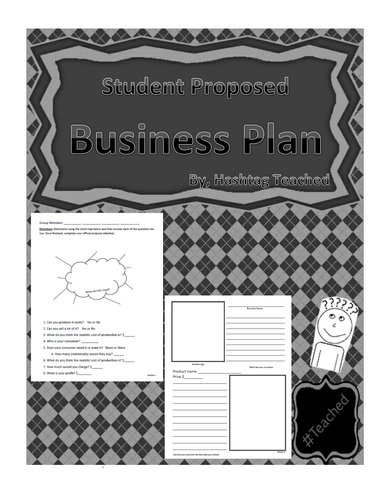 This awesome project allows students to collaborate as a business team and identify a need in their community. Students will write a business plan that forces the students to think about profits, supply, demand, consumers, markets, advertising and more! The file starts with a brainstorm, and then student think through various components and finishes with their formal write-up of the their plan. Attached is a step by step Lesson Plan for teachers. Also there are three variations of each page to allow for seamless differentiation.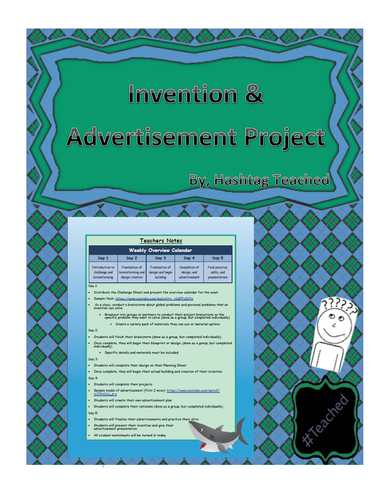 Based off of the ideas from Shark Tank, students will be highly engaged in this 5 day invention challenge. After being supplied with a variety of random materials, provided by the teacher, students will be tasked with creating an invention that solves some sort of problem. After following some design challenge cycles, students will brainstorm, design, and create their invention. Upon completion, they will create an advertisement that sells their invention and finish up with a presentation of such. Students will love this hands on project and will be highly successful with the included guided components. Included you will find a prompt for engagement, video resource links, templates, objectives, teacher notes and more!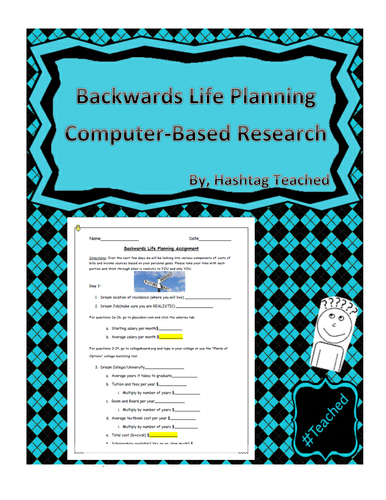 This backwards life planning research is great for students of all ages. I have found it most useful as an end of the year project for students to apply what they have learned. Students will have to begin with the end goal in mind and think about their goals and what they will have to do to get there. Students will research the job they want, the college they want to go to and the costs associated with them. Students will research costs such as utilities, automobile prices, college tuition, and then will figure out how much money they will make from their dream job. Students will apply math concepts such as finding an average, estimating, addition, subtraction, multiplication and division. This fun research project allows students to think through their career goals and identify the steps they will have to take to be successful. Please know that this 3-day activity will require technology in the classroom since it is very research-based. There are ample websites that provide salary estimates, price quotes, etc. which are embedded in the guided worksheets. Best of luck and I hope this helps your students think about where they are going and what they will have to do to get there! :)
This fun and student-friendly self-reflection form will be the hit of your class as student see that their input matters and they are given the opportunity to self-evaluate. Students will be able to track their behavior over time as they see how they give themselves more smiley faces over time. This simple form can serve as awesome documentation and a point of conversations with students and families!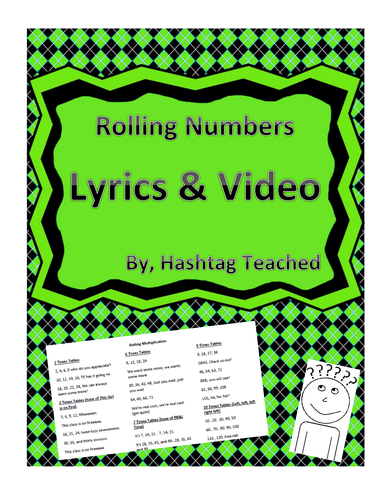 In an effort to make learning multiplication tables fun for students, rolling numbers is a great chant format that invests all students! Rolling numbers is a chant/song that goes along with the skip counting for each multiplication table. These chants were all created BY my students so I definitely urge you to use our chants as a foundation and customize them on your own! You are purchasing the lyrics alone. In the file, you will find the accompanying Youtube video that goes with it so you can model expectations in your classroom as well; this way students can hear the rhythm and replicate it. 3.OA.A.1, 3.OA.A.3, 3.OA.B.5, 3.OA.C.7, 4.OA.B.4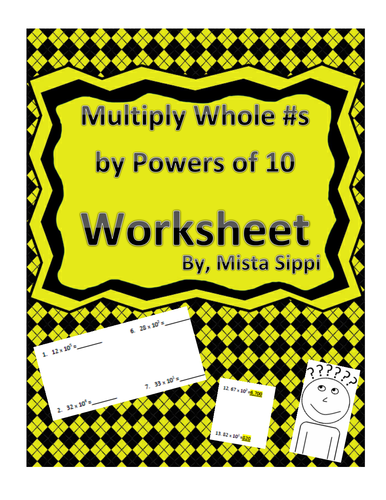 Check out this 15 questions worksheet that samples students understanding of multiplying whole numbers by powers of 10. Students will need to know basic principals about exponents and apply them here.
Check out this free task Card template! It comes in a variety of background colors to fit the need of your product. Each of the 10 variations has clear borders and lines to be cut out on which suits four task cards per page. I ask that you give my store a look over and share if you feel so inclined! You can access it by CLICKING HERE. Happy shopping and happy selling!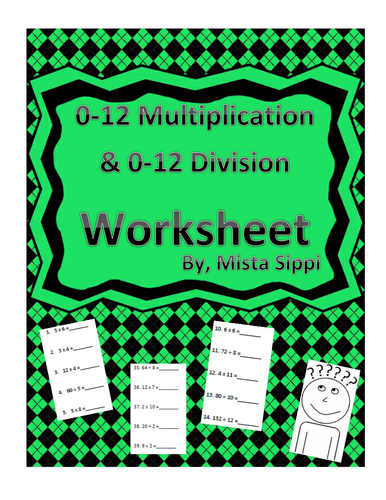 This 42 mix of questions worksheet covers multiplication and division for 0-12. This worksheet can easily be used for early finishers, classwork, homework or any combination thereof. Hope this makes your day a little easier!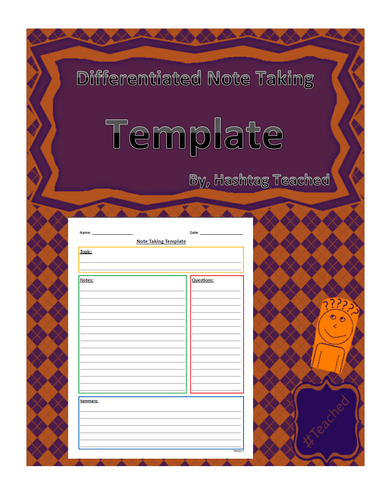 This simple and student friendly template is designed to facilitate student note taking. The format is customized from Cornell Notes and adapted for success for students at all levels. This product comes with 4 differentiated versions that include different line spacings, bullet points, and empty spaces to meet the needs of all students in your classroom! Check out my alternative Note Taking Templat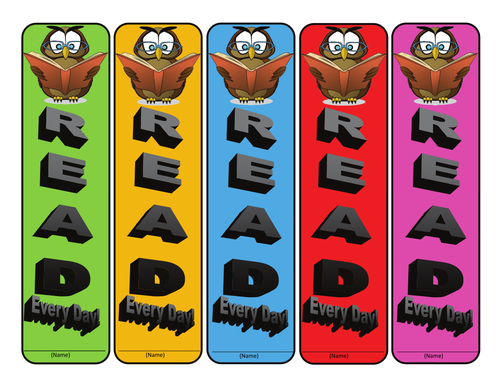 Please enjoy these printable bookmarks. I would suggest printing on card stock, construction paper, or laminating printer paper in order to increase the longevity. Students will love the fact that they can put their names on it, and the bookmark will serve as a constant reminder that students should read EVERY day!
Finding it hard to keep all students reading within their ZPD? Is Accelerated Reader (AR) being implemented in your classroom? If so, check out these really easy customizable bookmarks where each student has a bookmark with their ZPD, their AR point goal, book level goal and their accuracy goal all in on place. Simply replace the "student" label on each with each students name, print, laminate (optional) and fill in the applicable spaces! The students will love their bookmark and it will take one more thing OFF of YOUR plate!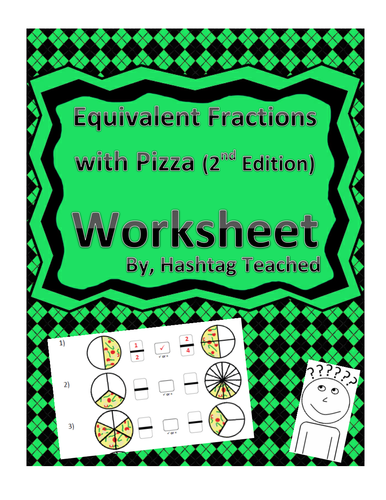 Included is one worksheet that students can count the numerator and denominator of the pizza fractions and identify if the two pizzas have equivalent toppings covering each pizza. The students are to count the numerator and denominator to complete the fraction for each pizza; and then simply put a check or an "x" to identify if they are equivalent. This is a great exit slip, assessment, homework or worksheet that students will be invested in! 3.NF.A.3, 4.NF.A.2, 5.NF.B.7
Looking for specific vocabulary tied to Bloom's Taxonomy to use in your classroom? Well look no further! Check out this simple and color-coded reference guide with tons of question stems that can easily be infused in any lesson. Push your students and their depth of knowledge as well as critical thinking skills as your questions get an instant upgrade with these question stems!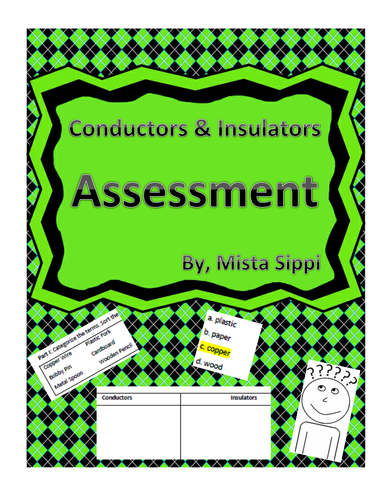 This is an insulator and conductor quiz that has a variety of questions including sorting, multiple choice, and extended response. Students will need to determine if materials are conductors or insulators, will have to compare the two terms and exemplify an understanding of the two.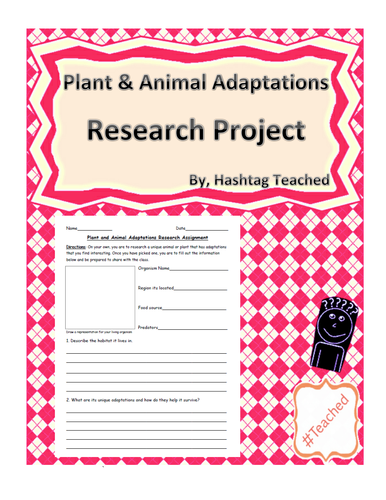 Check out this awesome, and easily integrated mini research assignment to help students develop their knowledge of plant and animal adaptations (I've also used it with insects as students choose). You can either assign a variety of organisms for students to research, or allow them to use a site like kidrex.org to find their own examples and approve it before they complete their worksheet. Students are to use their textbook, articles, and most importantly the internet to fill in a variety of questions about their specific organism. Vocabulary included here are things such as region, predators, habitat, adaptations and more. Students will love the autonomy and freedom to control their own learning and explore specific animals and plants that interest them and will explore the adaptations that help them survive and reproduce. For an added element, I have the students present their worksheet to the class so the class can preview a variety of other organisms as well! The rest of the class can use the presentations as guided notes with the attached Notes Sheet (you can check out a sample of this in the preview as well).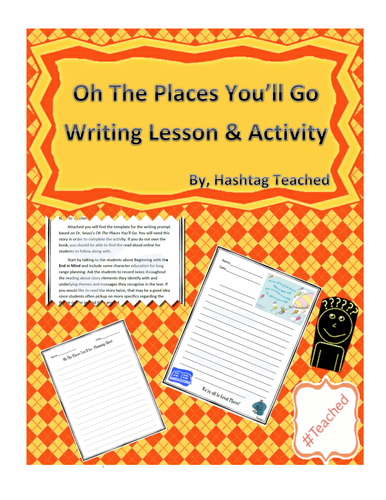 The lessons in Dr. Seuss's Oh The Places You'll Go story are invaluable and offer a great text example of beginning with the end in mind as we think through our decisions. This fun and engaging lessons pushes students to identify various story elements such as theme, key ideas, textual based answers as well as creative writing based on text to self connections. Students will respond to a supplied prompt relating the story to the students and having them think about where they want to go! Included are instructions for the teacher, a sloppy-copy planning sheet and then 4 differentiated final copy templates in which the teacher can easily give different students one of the variety of templates that best fits the need of each student (there are version labels on the bottom right of each template). This has proven to be a great reflective process to use during the first week of teaching since it can be the driving force of motivation throughout the year; it can easily be used at any point that fits your schedule though! *Also an ideal way to infuse reading and writing, to celebrate Dr. Seuss's Birthday! W.2.3, W.2.5, W.3.1, W.3.2, W.3.3, W.4.1, W.4.2, W.4.3, W.4.4, W.5.1, W.5.2, W.5.3, W.5.4, W.6.1a, W.6.2, W.6.3, W.6.4, W.6.9, W.7.1, W.7.2, W.7.3, W.7.4, W.7.9, W.8.1, W.8.2, W.8.3, W.8.4, W.8.9, W.9-10.1, W.9-10.2, W.9-10.3, W.9-10.3a, W.9-10.4, W.11-12.1, W.11-12.2, W.11-12.3, W.11-12.9, W.3.1b, W.3.1c, W.3.1d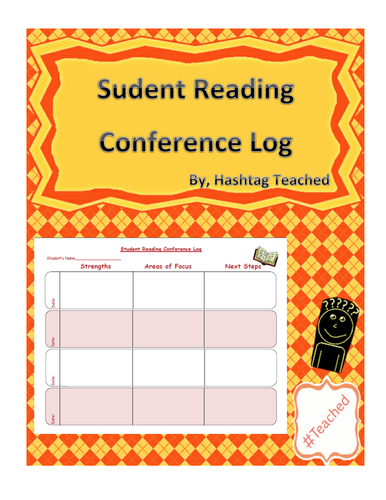 Check out this simple and user-friendly log that can be used to record and document your student conferences regarding their progress. This can easily be used for student led conferences or can be facilitated by the teacher. The template has 4 meeting spots on it, if you want to meet weekly or whatever best fits your schedule. Easily create a binder tracking these conferences over the course of the year for each student. The log has three main areas which include "Strengths", "Areas of Focus", and "Next Steps". Best of luck to you and your students! Check out my alternative Student Writing Conference Log Template.
Check out this awesome, student-centered hands on math lesson. Students will be able to apply their centimeter measurement skills using their own rulers (not included) as they look for items that are certain measurements around the room as well as measure specific items as identified in the worksheet. This can easily be used as a performance task assessment, guided practice, independent work, or small group math centers!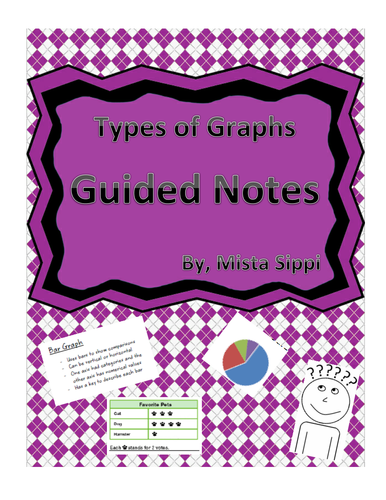 This very simple guided notes worksheet can be used for students to draw and describe Bar Graphs, Circle Graphs and Pictographs. 2.MD.D.10, 3.MD.B.3, 4.MD.B.4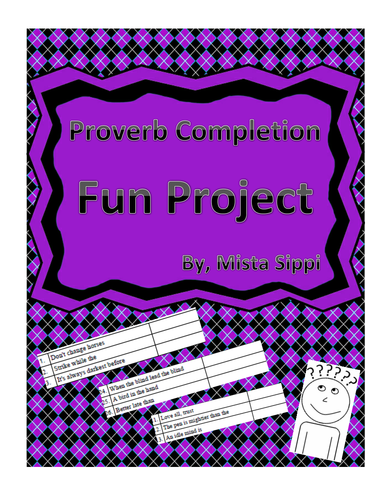 This is a really fun challenge page to promote higher level thinking and can offer a quick solution to early finishers, gifted and talented or just a fun activity to make a Teacher's Day. The goal is for students to complete traditional proverbs with their own sentences.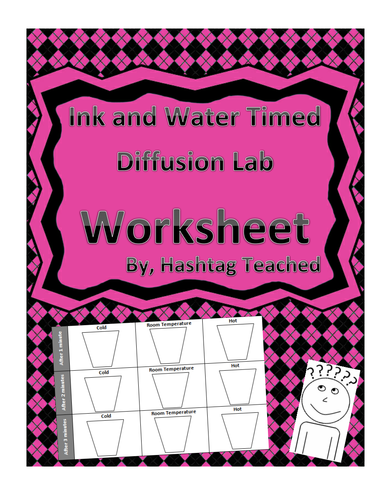 This simple but effective lab allows students to observer and draw inferences about diffusion. Students will need three cups set up that are each of the following temperatures (warm, cold, and room temperature). They will need to put one drop of food coloring in each at the same time as well as start a timer once they do so. In one minute increments, the students will record what they see for three minutes total. Students will then reflect on the diffusion of the food coloring being compared in each of the three temperatures. The temperature component can be connect to dissolving easily and the recording change over time is also important. Materials needed: clear cups (3 per group), some way to both lower and raise temperature of the water prior to experimentation, food coloring, and a timer.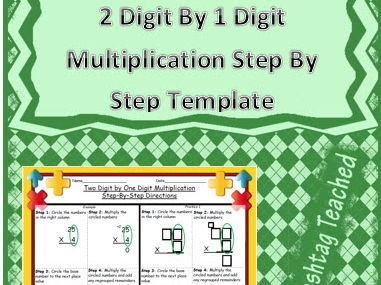 Check out this awesome tutorial for students to reference on how to complete 2 digit by 1 digit multiplication. This package comes with two pages that include an example for students to reference and understand the steps as well as three practice templates that have very clear and organized spaces to fill in as they go. Students can easily glue this in their notebook and will build foundational knowledge as they develop this skill. The example has clearly color coded sections for students to draw conclusions from and develop conceptual understanding as they apply their own knowledge through practice. 3.NBT.A.3, 4.NBT.B.5, 5.NBT.B.5, 5.NBT.B.7, 3.OA.A.3, 3.OA.B.5, 3.OA.C.7, 4.OA.A.1, 4.OA.A.2
Check out this awesome, visual, and informative powerpoint. There are 9 total slides that cover topics including condensation, evaporation, precipitation, and more. Additionally, topics are discussed that look at how plants and animals play a role in the water cycle. Items are also looked at that include runoff, groundwater, etc. Students will be highly engaged in this very visual and fun presentation that they can easily jot down key details, important vocabulary, as well as create a drawing of the water cycle on their own from.
Check out this fun and interactive way to support your students and promote their study skills. This cut-out is meant to be cut and either glued or taped together after students are able to record six main ideas on their cubes. This can easily be differentiated for reading comprehension of identifying the six big ideas of a text or for six key characters in a book or movie. It can also be used to facilitate a Frayer Model as students learn various vocabulary words. Students will love the interactive and hands on component of this and will have something physical to walk away with.