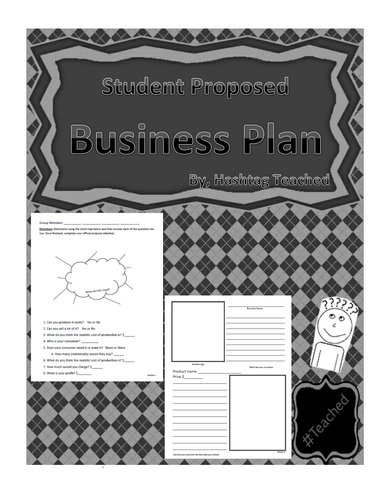 This awesome project allows students to collaborate as a business team and identify a need in their community. Students will write a business plan that forces the students to think about profits, supply, demand, consumers, markets, advertising and more! The file starts with a brainstorm, and then student think through various components and finishes with their formal write-up of the their plan. Attached is a step by step Lesson Plan for teachers. Also there are three variations of each page to allow for seamless differentiation.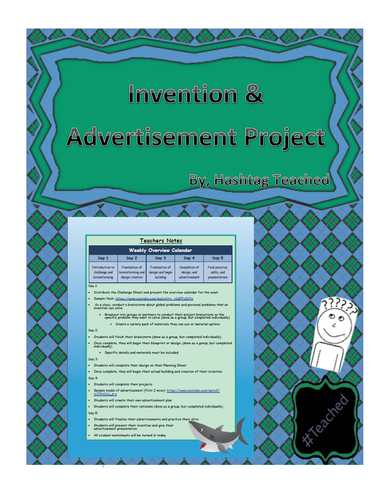 Based off of the ideas from Shark Tank, students will be highly engaged in this 5 day invention challenge. After being supplied with a variety of random materials, provided by the teacher, students will be tasked with creating an invention that solves some sort of problem. After following some design challenge cycles, students will brainstorm, design, and create their invention. Upon completion, they will create an advertisement that sells their invention and finish up with a presentation of such. Students will love this hands on project and will be highly successful with the included guided components. Included you will find a prompt for engagement, video resource links, templates, objectives, teacher notes and more!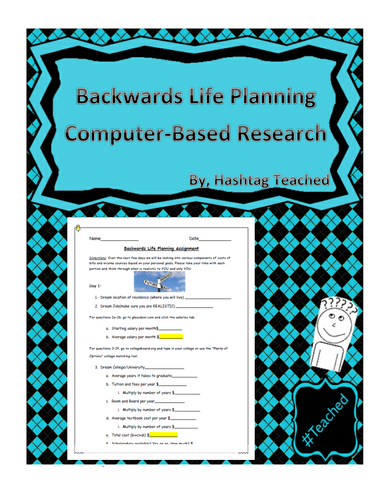 This backwards life planning research is great for students of all ages. I have found it most useful as an end of the year project for students to apply what they have learned. Students will have to begin with the end goal in mind and think about their goals and what they will have to do to get there. Students will research the job they want, the college they want to go to and the costs associated with them. Students will research costs such as utilities, automobile prices, college tuition, and then will figure out how much money they will make from their dream job. Students will apply math concepts such as finding an average, estimating, addition, subtraction, multiplication and division. This fun research project allows students to think through their career goals and identify the steps they will have to take to be successful. Please know that this 3-day activity will require technology in the classroom since it is very research-based. There are ample websites that provide salary estimates, price quotes, etc. which are embedded in the guided worksheets. Best of luck and I hope this helps your students think about where they are going and what they will have to do to get there! :)
This differentiated template with the prompt of "I wish my teacher knew..." holds amazing power in gaining insight into the thoughts, feelings, emotions, and ideas of students. Through a comfortable, non-verbal way, students are able to inform the teacher of things they find important and most valuable, in a non-confrontational way. This variety pack includes templates in different formats including lines, space, and bullet points, for simple and easy differentiation to meet students' needs and different grade levels. They are also pre-made for full size sheets and half size sheets for your convenience!
Check out this massive pre-made To do list variety pack which includes 66 pages worth of pre-made templates. Half our full size pages and half our half sized pages. There are pre-populated with titles to fit your need, easy to navigate and interact with and so easy to use yourself or distribute to students, parents etc. I would recommend printing them on assorted pages of color for more fun, but use as you wish and we hope this helps you work more efficiently, effectively, timely, and keep more organized!
This graphic organizer facilitates students planning for writing a summary or paragraph. Following the five sentence template, students will be prompted to think through various components that should be included such as a topic sentence, supporting details, and a conclusion sentence. The file comes in three different formats that can be used to differentiate and meet student needs with open spaces, bullet points, and lines. Using this template will organize the thoughts and ideas of your students to make their paragraphs far more developed and meaningful.
Check out this simple and engaging guided notes template to learn about nouns. Short definitions are listed on the bottom for reference. Students will fill in the remaining boxes for common and proper nouns with some components pre-listed. This template can be used to facilitate struggling students, can be differentiated with some more components fille din by you, or provide a great note-taking guide for students. Either use it for definitions or examples for each category.
This 12 question study guide can easily be used as a homework assignment, assessment, exit ticket, independent work, or group work. Students will be questioned on topics of the types of soils and their basic composotion. They will also need to know the types of rocks and where they are found and some basic properties. All question are short answer but many are single word or two responses.
Check out this awesome assessment that comes with a perfectly aligned study guide that covers topics of for and motion as well as gravity. Questions are presented in multiple choice and short answer on the assessment and multiple short answer multiple short answer questions on the study guide. This can be used in variety of formats from independent work, homework, group work and more, and then coupled with the assessment to offer insight into students' understanding. An answer key is included.
Check out this bundle that includes a one page study guide that aligns nicely to the assessment. The study guide is very open-ended and requires students to write a 5-sentence paragraph while the assessment includes some fill in the blank, some short answer, and some extended response. This study guide is perfect to assign for homework, while the assessment will give you great insight into students' understanding of sound and its properties.
Facilitate the organization of science projects and experiments with this fun, engaging and purposeful outline. Students will answer prompts such as Title, Purpose, Observation, Conclusions and more. Students have a second page to record data, make a table, and ground their conclusions in evidence. It is color coded for ease of directions, and students will find the organization meaningful and fun!
This tracking form reflects the traditional color system behavior system. It mimics the stoplight system of Red, Yellow, and Green do signify obvious behavior representations. Students will color in their color each day and then check the box that reflects the reason for their behavior. Students will either check they had a great day or can check one of the pre-listed options of components such as needs to work on staying focused, showing respect, etc. There is a signature line at the bottom of each day (already set up for the week) in which parents can be accountable for daily behaviors. This serves as excellent documentation and tracking for interventions and response to misbehaviors as well as rewards for positive behaviors (PBIS).
Check out this simple brainstorm template in which student can list and identify the various characteristics of famous people. Students will then be prompted with the single question of "What will you do to practice these characteristics?" This is a great hook into learning about famous people, a strong self-identification when talking about leadership, an application of identifying character traits and so much more. Please feel free to leave a comment in the feedback section, how you incorporated this in your classroom!
Check out this 11 question assessment that will offer insight into student understanding of insulators and conductors. Questions provide various materials and situations for students to apply their knowledge. This can easily be adapted as a quiz, test, homework, or classwork. There is also a rubric attached for your convenience.
Check out this awesome project that will captivate and engage students will providing opportunities to apply knowledge and further develop understandings as they relate to animals. These projects has multiple components with an aligned rubric for scoring that dives into animal adaptations, how this helps them in their environement, the food chains that they are a part of and the habitat they live in. Students will do research and answer multiple questions with regards to vocabulary, and elaborating on each of the aforementioned topics. Students will have a blast, and won't even realize they are learning. This can easily be adapted to be implemented as an in-class project as a whole class, in groups, independently or as a homework assignment.
Check out this awesome interactive guided notes activity. Students will have a reference point to refer to as they apply their understanding of measuring in inches and feet and when to do so. The first page allows them to simply compare length of items. They will then estimate the length of some items. The second page then pushes student to decide which unit of measurement they should use, and allows them to explore the world around them with various estimations in feet and inches. This activity can easily be differentiated to meet students' needs. Additionally, students the activity can be adapted for whole group instruction, small group, or independent practice.
In a spirit of promoting positive behavior intervention support systems (PBIS), this template is a great ay to change the way students get attention. In addition to or in replacement of negative referrals to the office, this form allows for students to receive extra positive attention when caught doing great things. Just like the normal form, this alternative praises students based on their behavior or characteristics such as flexibility, accountability, optimism, respect, grit, perseverance and more. It is set up to have the student's name, the date, teacher, location, details and more. It also includes additional details and signature lines for the teacher, parents, and administrators. Please leave some feedback for how it work for you and how you implemented it in your school/classroom!
In an effort to make main idea identification more engaging and meaningful, try out this simple ripple effect graphic organizer. Directions are embedded, but students will write the main idea in the center, and then write supporting details (whether it be from a text or not) on each layer surrounding. Student will realize that their main idea may not be correct if they can't identify enough supporting details. They will then summarize these ideas at the bottom of the page.
In order to build students' understanding of different units of measurement and the tools associated with collecting those data points, this simple and student-friendly guided notes organizer will allow students to create their own reference point. To take this graphic organizer to the next level, students will be required to convert from one unit to another. The last page includes the answer key for your convenience :)
Celebrate Flag Day in style with this creative writing worksheet. There are eight questions in all, that prompt students to think about the colors and components of the flag, patriotic songs, key takeaways of prior learning and opinion pieces about the Pledge of Allegiance. This worksheet can supplement any Flag Day activity you already have, but will push students to think critically, write, and be creative!
In an effort to hold students accountable in a meaningful way, try giving this template a try for when students read at home. This simple and student friendly organizer allows students to record the title of their book, the time they spent reading, and a brief summary about what they read. Parents will then initial each night, and at the end of the week you will have a quick reference guide of what students read, and their level of understanding the text. This has the ability to build comprehension, fluency, and ultimately the love of reading. This form offers great documentation for interventions and reference. It also holds students and families accountable with the initials component.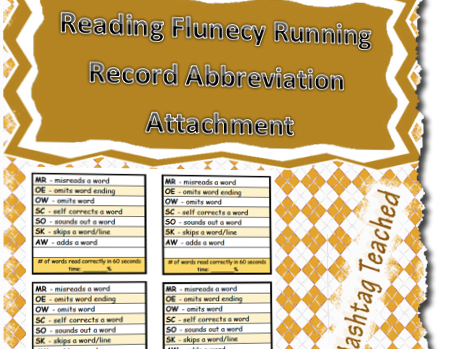 While students are being assessed for their reading fluency, make your feedback that much more meaningful but following these simple to use abbreviations. When they are marked on the copy of the reading assignment, it makes the running record of fluency purposeful; not only does it inform you what they need to work on, but provides precise components for parents and students to focus on moving forward. This simple abbreviation reference guide has six per page and is meant to be cut, to include one small one per reading passage. It also has a space for total words read in that given minute. Take you feedback to a whole new level!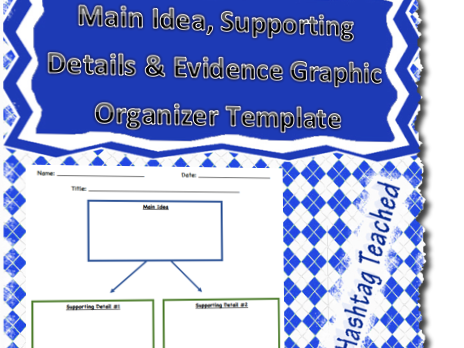 This simple and student-friendly graphic organizer takes your students' writing and reading to the next level. Student will begin with a main idea at the top of the page. The students then will identify two supporting details of that main idea. Off of each supporting detail, students will need to identify two sources of evidence from the text. This can also be done working your way backwards, to facilitate students identifying the main idea. The template has three different varieties for differentiation purposes.
Take your instruction on organisms, habitats, natural resources, food chains, and biotic and abiotic factors to the next level. This fun creative project allows students to create their own organism while being specific and detailed on the aforementioned topics. This will allow students to apply their knowledge of such vocabulary and concept in a fun and interactive way. Students will be required to draw, detail, annotate and present an invention of their widlest imagination. This project includes specific details and expectations with a rubric as well. Have fun!