Hashtag_Teached's Shop
"Education is the most powerful weapon which you can use to change the world" - Nelson Mandela
331Uploads
32k+Views
1k+Downloads
"Education is the most powerful weapon which you can use to change the world" - Nelson Mandela

Check out this free task Card template! It comes in a variety of background colors to fit the need of your product. Each of the 10 variations has clear borders and lines to be cut out on which suits four task cards per page. I ask that you give my store a look over and share if you feel so inclined! You can access it by CLICKING HERE. Happy shopping and happy selling!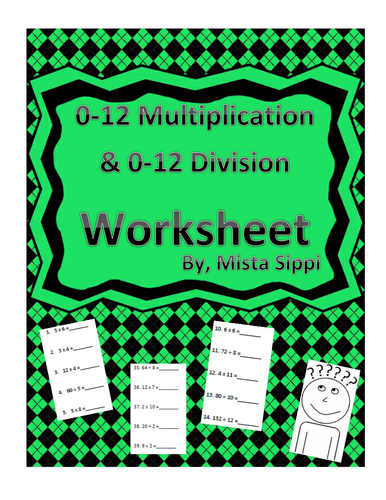 This 42 mix of questions worksheet covers multiplication and division for 0-12. This worksheet can easily be used for early finishers, classwork, homework or any combination thereof. Hope this makes your day a little easier!

Check out this extensive list of adjectives and verbs that can be used to spice up your report cards! This list can be used to make your report card writings to parents far more impressive and unique. These terms can describe students and offer more accurate insight for parents.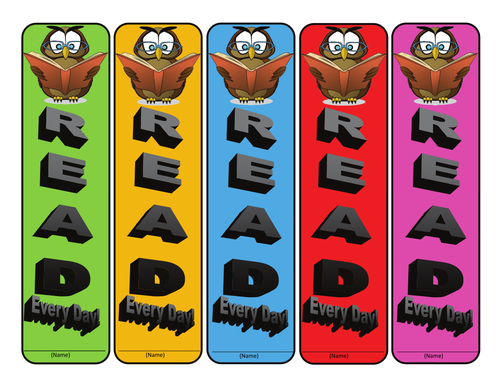 Please enjoy these printable bookmarks. I would suggest printing on card stock, construction paper, or laminating printer paper in order to increase the longevity. Students will love the fact that they can put their names on it, and the bookmark will serve as a constant reminder that students should read EVERY day!

Check out this fun and interactive way to support your students and promote their study skills. This cut-out is meant to be cut and either glued or taped together after students are able to record six main ideas on their cubes. This can easily be differentiated for reading comprehension of identifying the six big ideas of a text or for six key characters in a book or movie. It can also be used to facilitate a Frayer Model as students learn various vocabulary words. Students will love the interactive and hands on component of this and will have something physical to walk away with.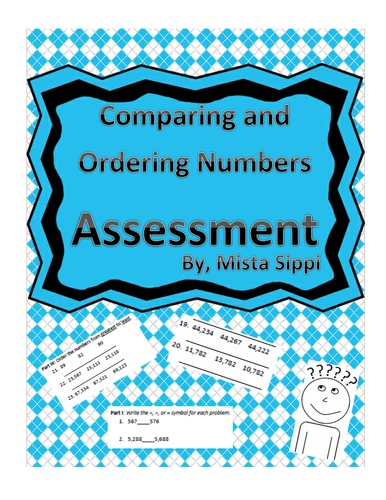 On this assessment, students will answer twenty five questions related to greater than, less than, equal to as well as ordering numbers based on place value from least to greatest and greatest to least. 2.NBT.A.4, 3.NBT.A.1, 4.NBT.A.2

This fun and student-friendly self-reflection form will be the hit of your class as student see that their input matters and they are given the opportunity to self-evaluate. Students will be able to track their behavior over time as they see how they give themselves more smiley faces over time. This simple form can serve as awesome documentation and a point of conversations with students and families!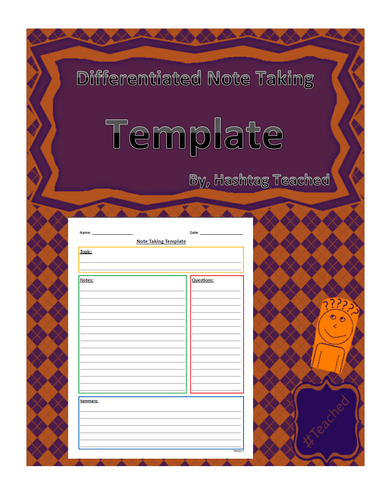 This simple and student friendly template is designed to facilitate student note taking. The format is customized from Cornell Notes and adapted for success for students at all levels. This product comes with 4 differentiated versions that include different line spacings, bullet points, and empty spaces to meet the needs of all students in your classroom! Check out my alternative Note Taking Templat

Finding it hard to keep all students reading within their ZPD? Is Accelerated Reader (AR) being implemented in your classroom? If so, check out these really easy customizable bookmarks where each student has a bookmark with their ZPD, their AR point goal, book level goal and their accuracy goal all in on place. Simply replace the "student" label on each with each students name, print, laminate (optional) and fill in the applicable spaces! The students will love their bookmark and it will take one more thing OFF of YOUR plate!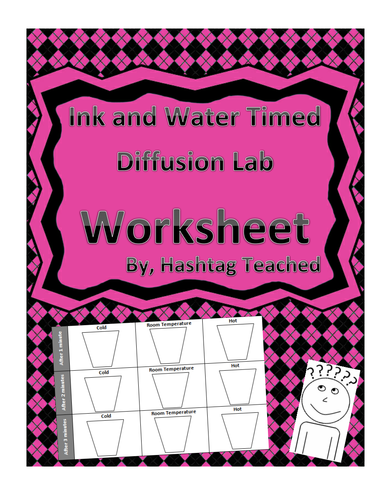 This simple but effective lab allows students to observer and draw inferences about diffusion. Students will need three cups set up that are each of the following temperatures (warm, cold, and room temperature). They will need to put one drop of food coloring in each at the same time as well as start a timer once they do so. In one minute increments, the students will record what they see for three minutes total. Students will then reflect on the diffusion of the food coloring being compared in each of the three temperatures. The temperature component can be connect to dissolving easily and the recording change over time is also important. Materials needed: clear cups (3 per group), some way to both lower and raise temperature of the water prior to experimentation, food coloring, and a timer.

This graphic organizer facilitates students planning for writing a summary or paragraph. Following the five sentence template, students will be prompted to think through various components that should be included such as a topic sentence, supporting details, and a conclusion sentence. The file comes in three different formats that can be used to differentiate and meet student needs with open spaces, bullet points, and lines. Using this template will organize the thoughts and ideas of your students to make their paragraphs far more developed and meaningful.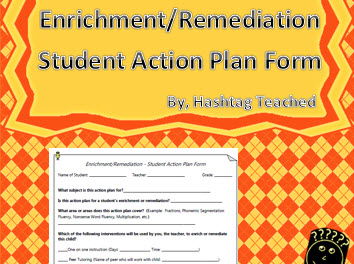 Check out this awesome template that is to be used to create an action plan for struggling students. The form includes components such as subject, student, area of struggle, with multiple suggestions for interventions. There are frequency components where needed. If there are alternative interventions being carried out, then there is an other section. This offers great documentation for interventions of students who require remediation and/or enrichment! Hashtag Teached Resources by is licensed under a .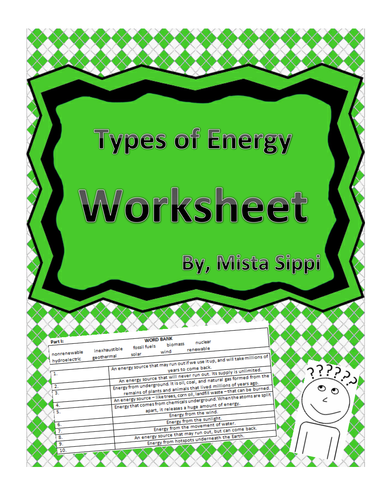 This worksheet is 19 questions and can easily be used for any type of assessment. The worksheet is broken down into three sections that each have a word bank that cover topics such as kinetic vs potential energy, radiant, mechanical, thermal energy as well as energy sources such as geothermal, hydroelectric, wind and more.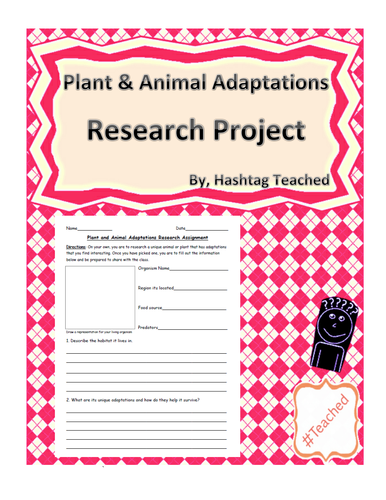 Check out this awesome, and easily integrated mini research assignment to help students develop their knowledge of plant and animal adaptations (I've also used it with insects as students choose). You can either assign a variety of organisms for students to research, or allow them to use a site like kidrex.org to find their own examples and approve it before they complete their worksheet. Students are to use their textbook, articles, and most importantly the internet to fill in a variety of questions about their specific organism. Vocabulary included here are things such as region, predators, habitat, adaptations and more. Students will love the autonomy and freedom to control their own learning and explore specific animals and plants that interest them and will explore the adaptations that help them survive and reproduce. For an added element, I have the students present their worksheet to the class so the class can preview a variety of other organisms as well! The rest of the class can use the presentations as guided notes with the attached Notes Sheet (you can check out a sample of this in the preview as well).

This differentiated template with the prompt of "I wish my teacher knew..." holds amazing power in gaining insight into the thoughts, feelings, emotions, and ideas of students. Through a comfortable, non-verbal way, students are able to inform the teacher of things they find important and most valuable, in a non-confrontational way. This variety pack includes templates in different formats including lines, space, and bullet points, for simple and easy differentiation to meet students' needs and different grade levels. They are also pre-made for full size sheets and half size sheets for your convenience!

This simple yet elegant poster with become the most interacted with component of your classroom! This template allows students to complete their exit ticket question, for any subject, on a post it note (with their name on the back which avoids student to student opportunities) and then put that post it note on this oversized poster. The product comes with two options; the first is an 8.5x11 option which can be put into a poster-making printer and the second is a 20x27 file which can be printed and patched together. Both documents are in microsoft publisher formats. I would also suggest laminating the poster for integrity and to ease the attachment with the sticky notes. Students will love getting out of their seat, and will take great pride in their work being displayed each day. Students will also self assess and place their post it note under three categories which include, Content Master, I kind of get it but need a little help, and I'm struggling & don't understand. This self assessment component aligns to John Hattie's research for students understanding where they are in the learning process and is considered best practice. As the teacher, you will be able to easily scan the poster for inaccuracies as well as easily create adaptive differentiated groups the following lesson or day based on groupings of post it notes. Additionally, you will be able to see how students feel about their work and the confidence they have on that specific content matter. Be sure to check out my Exit Ticket Progress Monitoring Template.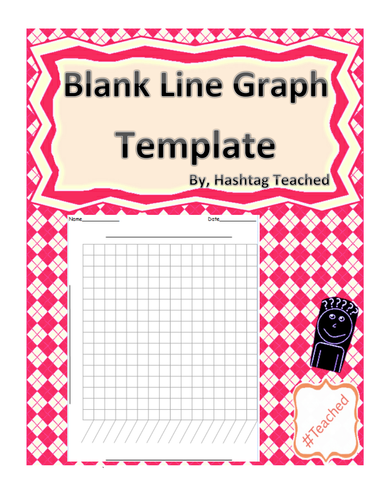 Check out this simple and student friendly line graph template that teachers can easily use to teach students the parts of a line graph and use as they build their foundational skills. Apply best practice skills and use every minute of instruction by not wasting time by having students draw out their sloppy lines and simply glue this template in their math notebooks or take home with them to work on HW :) Also includes a side by side page for extra practice space!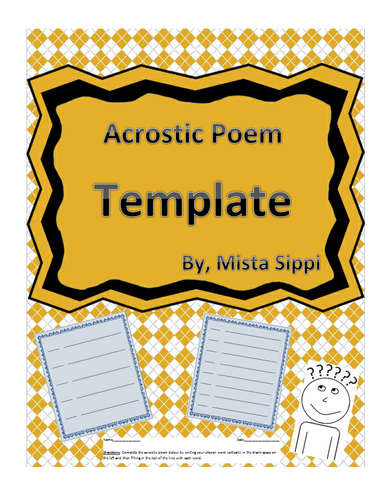 Check out this simple but effective differentiated acrostic poem template. There are three levels in which you can easily designate for different students or for different grade bands. A clear set of instructions are also included for the students and can be easily removed for display in the classroom!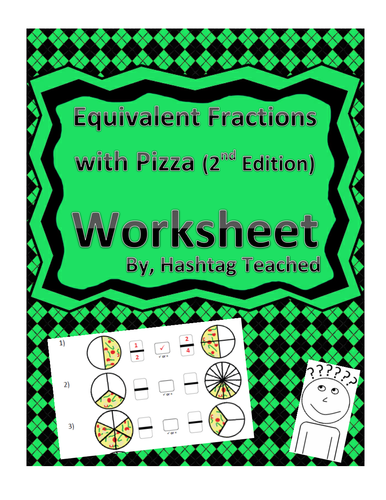 Included is one worksheet that students can count the numerator and denominator of the pizza fractions and identify if the two pizzas have equivalent toppings covering each pizza. The students are to count the numerator and denominator to complete the fraction for each pizza; and then simply put a check or an "x" to identify if they are equivalent. This is a great exit slip, assessment, homework or worksheet that students will be invested in! 3.NF.A.3, 4.NF.A.2, 5.NF.B.7

Check out this easy to use interventions log to keep track of each student's interventions. Simply check write the date each time an intervention occurs and place a check under the category that applies. Change the headings for each student as you wish! This is a perfect way to quick and easily create documentation of interventions!