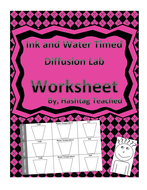 Diffusion Lab Worksheet with Food Coloring and Water
This simple but effective lab allows students to observer and draw inferences about diffusion. Students will need three cups set up that are each of the following temperatures (warm, cold, and room temperature). They will need to put one drop of food coloring in each at the same time as well as start a timer once they do so. In one minute increments, the students will record what they see for three minutes total. Students will then reflect on the diffusion of the food coloring being compared in each of the three temperatures. The temperature component can be connect to dissolving easily and the recording change over time is also important.

Materials needed: clear cups (3 per group), some way to both lower and raise temperature of the water prior to experimentation, food coloring, and a timer.
Read more
About this resource
Info
Created: Jul 11, 2016
Updated: Feb 22, 2018