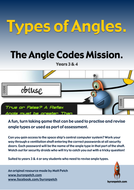 Angle Codes Mission. An angle recognition game.
A fun, turn taking maths game that can be used to practise and revise angle types or used as part of assessment. Can you gain access to the space ship's central computer system? Work your way through a ventilation shaft entering the correct passwords at all security doors. Each password will be the name of the angle type in that part of the shaft (acute, right angle, obtuse or reflex). Watch out for security droids who will try to catch you out with a tricky question!

Suited to years 3 & 4 or any students who need to revise angle types.

This is a 3 page pdf document.
Page 1. Cover page and introduction.
Page 2. How to play.
Page 3. The game sheet. Print one per student or one per game. Laminate for future use.
About this resource
Info
Created: Jun 20, 2016
Updated: Feb 22, 2018
By adding a School licence it allows you to share this resource with colleagues at your school. Without it, this resource is licensed for use only by you. Read licence details