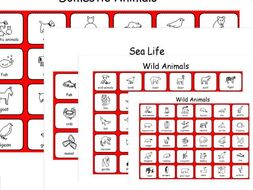 Animals - Domestic, Wild, Sea Life - 4 symbol grids - SEN and Lower Ability
Contains 4 symbolised word sheets with animal names matched to pictures.
1 x domestic animal sheet.
1 x sea life sheet.
2 x wild animal sheet.
Used as a visual aid for SEN and lower ability pupils.
Read more