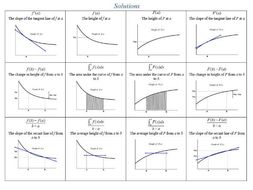 AP Calculus Visualizing The Fundamental Theorem of Calculus Study Guide
This calculus study guide will helps students differentiate between the height of a function, the average height of the function, the slope of a tangent line, the slope of a secant line, the area under a curve, and the change in height between two points. Students will compare these six characteristics of a function using an original function as well as it's antiderivative function.

There are 16 total problems where students can draw in the visuals themselves. An answer key is also included. This study guide is great to help students understand the Fundamental Theorem of Calculus for the AP Calculus exam.
Read more