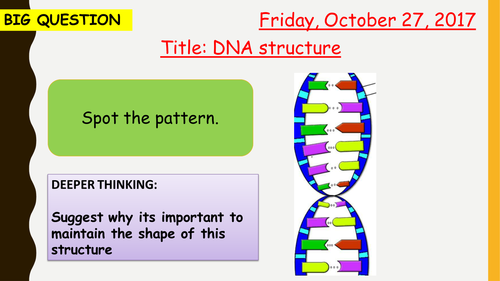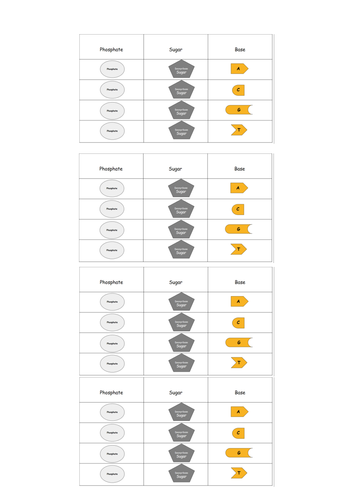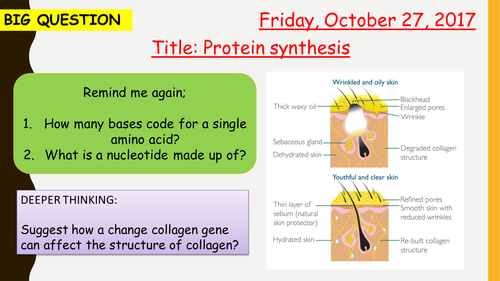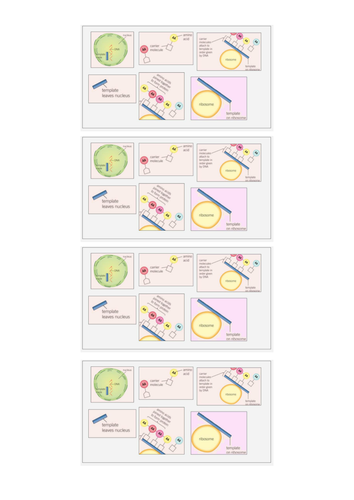 DNA structure and protein synthesis lessons created in accordance to the NEW AQA Specification (9-1). NB: BIOLOGY ONLY. I taught this topic in two lessons as it's a topic that's a difficult concept and can be taught effectively as opposed to being rushed. This resource is designed for higher ability class, although content can be adjusted to suit any ability. Includes: embedded videos and timers, slide animations, practice questions with answers on slides, worksheets and an interactive quiz.

AQA spec link: 6.1.5
Relevant chapter: B13 Genetics and reproduction. AQA Biology third edition textbook-Page 204-205.

Students should be able to describe DNA as a polymer made from four different nucleotides. Each nucleotide consists of a common sugar and phosphate group with one of four different bases attached to the sugar. DNA contains four bases, A, C, G and T. A sequence of three bases is the code for a particular amino acid. The order of bases controls the order in which amino acids are assembled to
produce a particular protein.
The long strands of DNA consist of alternating sugar and phosphate sections. Attached to each sugar is one of the four bases. The DNA polymer is made up of repeating nucleotide units.

(HT only) Students should be able to: •• recall a simple description of protein synthesis •• explain simply how the structure of DNA affects the protein made •• describe how genetic variants may influence phenotype: a) in coding DNA by altering the activity of a protein: and b) in non-coding DNA by
altering how genes are expressed.
(HT only) In the complementary strands a C is always linked to a G on the opposite strand and a T to an A.
(HT only) Students are not expected to know or understand the structure of mRNA, tRNA, or the detailed structure of amino acids or proteins.
(HT only) Students should be able to explain how a change in DNA structure may result in a change in the protein synthesised by a gene.
(HT only) Proteins are synthesised on ribosomes, according to atemplate. Carrier molecules bring specific amino acids to add to the growing protein chain in the correct order.
(HT only) When the protein chain is complete it folds up to form a unique shape. This unique shape enables the proteins to do their job as enzymes, hormones or forming structures in the body such as collagen.
Tes paid licenceHow can I reuse this?
Something went wrong, please try again later.
Okay for the lower end but not much in terms of real stretch and challenge. Covers the basics
I bought this as part of a bundle and has really saved me lots of time in this season of mock marking and report writing. Thanks, great resource!
Report this resourceto let us know if it violates our terms and conditions.
Our customer service team will review your report and will be in touch.