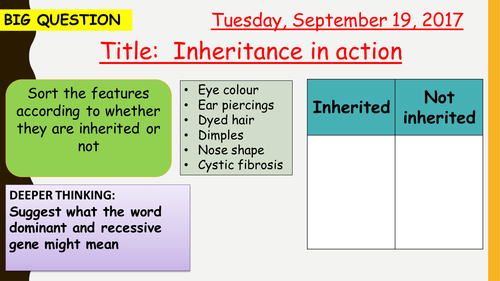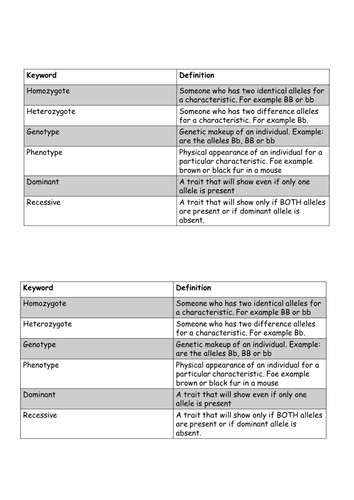 Inheritance in action lesson created in accordance to the NEW AQA Specification (9-1). Designed for higher ability class, although content can be adjusted to suit any ability. Includes: embedded videos and timers, slide animations, practice questions with answers on slides and an interactive quiz.

AQA spec link: 6.1.6
Relevant chapter: B13 Genetics and reproduction. AQA Biology third edition textbook-Page 208-209.

Students should be able to explain the terms:
• gamete • chromosome • gene • allele • dominant • recessive • homozygous • heterozygous • genotype • phenotype.

Some characteristics are controlled by a single gene, such as: fur colour in mice; and red-green colour blindness in humans. Each gene may have different forms called alleles. The alleles present, or genotype, operate at a molecular level to develop characteristics that can be expressed as a phenotype. A dominant allele is always expressed, even if only one copy is present. A recessive allele is only expressed if two copies are present (therefore no dominant allele present). If the two alleles present are the same the organism is homozygous for that trait, but if the alleles are different they are heterozygous. Most characteristics are a result of multiple genes interacting, rather than a single gene. Students should be able to understand the concept of probability in predicting the results of a single gene cross, but recall that most phenotype features are the result of multiple genes rather than single gene inheritance.
MS 2e
Students should be able to use direct proportion and simple ratios to express the outcome of a genetic cross.
MS 1c, 3a
Students should be able to complete a Punnett square diagram and extract and interpret information from genetic crosses and family trees.
MS 2c, 4a
(HT only) Students should be able to construct a genetic cross by Punnett square diagram and use it to make predictions using the theory of probability.
Tes paid licenceHow can I reuse this?
Something went wrong, please try again later.
I bought this as part of a bundle and has really saved me lots of time in this season of mock marking and report writing. Thanks, great resource!
love the resources from paper friendly, thanks
Report this resourceto let us know if it violates our terms and conditions.
Our customer service team will review your report and will be in touch.