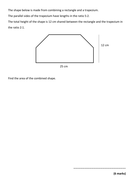 Area and Ratio exam style question
An exam style question combining using ratio to find lengths with calculating the area of a compound shape.
About this resource
Info
Created: Sep 21, 2015
Updated: Oct 8, 2015
Other resources by this author
All of the homework booklets I design for my Maths department, free and in one place. Obviously cannot post answers here, but happy for people to e...
Payphone
A RAG (Red, Amber, Green) worksheet around identifying invariant points on different transformations, incorporating a CLOZE activity (fill in the b...
Payphone
Based on an image from NCTM, pupils have to work out all of the angles in each polygon in the diagram. A couple of necessary facts are given to sta...
Payphone
Popular paid resources
Adventure game in which students answer KS3 circle questions in order to rescue a princess. Teacher notes and answers are provided. There are 5 sec...
kmbheck
Adventure game in which students answer GCSE circle questions in order to rescue a princess. There are 5 sections, each with 2 topics. They have 4 ...
kmbheck
With these activities, students will enjoy practicing their geometry skills as they have fun creating beautiful, colorful mandalas! These activitie...
charlotte_james615
New resources
Lesson plan, powerpoint and challenge sheets to teach a 30 minute lesson on Area for a year 4 class. Uses elements of Mastery from the NCETM websit...
Annie2888
3 short worksheets, each 4 questions, attractive to do as in colour, mostly shapes made from quadrilaterals, with a few triangles with others as cu...
aewright100
[Problem Solving 8 in the Series ( check out 1-7)] Students should learn/discover 1 . Learn Area of Trapezium 2. Find lengths using Similar Shapes ...
Kazmo1429
Updated resources
GCSE 9-1 Exam Practice. This pack includes two 20 question diagnostic tests covering 20 different topics at GCSE 9-1 Foundation Levels 3 to 4. The ...
Elsie99
If like mine your class are obsessed with the game Fortnite then this could help them to learn about grid referencing and coordinates. Easy to edit...
chrisjones22
Suitable for year 6. Dimensions of the wall and tile are given. Decimal multiplication is needed to work out the areas of both. The children need t...
Judith321