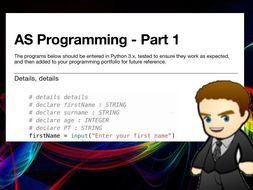 AS Programming Book 1 (Python 3.x)
This workbook contains thirteen exemplar programs to be entered by the students, tested and analysed. It covers the basics of Python coding from variable types and declaration, calculation, input / output, selection statements (IF... ELSE) and iteration (FOR). It also covers two examples of user-defined module libraries which reinforces the theory eBook concepts the students have learned about in class.

I use these programs to develop student confidence in Python programming but also to develop their understanding of program design.
Read more