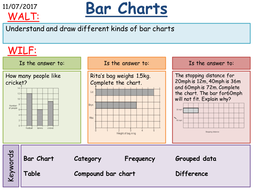 TES PICKS
Bar Charts
Different Types of Bar charts.
Read more
About this resource
Info
Created: Jul 11, 2017
Updated: Jan 21, 2018
Other resources by this author
My biggest ever quiz containing over 180 questions. 7 different categories to pick from Music (2000's, 2010's, Pictue Round) Sports (Nicknames, Top...
fintansgirl
WALT and WILF Starter: Areas of triangles Main 1: Areas of parallelograms, missing sides, compound shapes and problem solving question Main 2: Area...
fintansgirl
LINK TO MY SUMMER QUIZ Every year I make my famous Christmas Quiz. The kids in my school love taking part in them. Even classes I don't teach stop ...
fintansgirl
Popular paid resources
The pupils have to tally red, blue, green and yellow cars as they fly past in the presentation. This has proved a popular resource at both schools ...
Smeths
I created this code breaking maths lesson for an Ofsted observation. The children thoroughly enjoyed it and had so much fun (whilst still learning)...
jodieclayton
Featured in the TES Newsletter. Adventure game in which students answer probability questions in order to rescue a princess. PLEASE REVIEW / COMMEN...
kmbheck
Updated resources
A pack of ten activities that give students the challenge of designing their own theme park given specific criteria, e.g. 70 % of the theme park is...
jorgill
Use this sheet to get students to colour in the corresponding sections to create the world cup logo! Really easy and simple to use with a wide rang...
stefmathssparkle
Originally designed for my own classroom, I am delighted to share these five posters of Mathematical terms. There are separate posters for Number, ...
Maths4Everyone