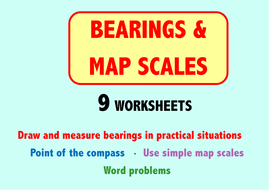 Bearings and Map Scales - 9 worksheets
These 9 worksheets provide an introduction to measuring and drawing three figure bearings beginning by looking at the 8 points of the compass. The practical uses of bearings in the real world are emphasised by requiring students to work through word problems with varying levels of support.

There is a lot of opportunity for practising measuring and drawing angles up to 360°. Revise angle vocabulary and apply basic angle facts.

As an additional feature sone of the examples also require diagrams to be measured so the map scale can be used to find the actual real life distance.

GCSE 2017 references G15, G14, G1, R2

For more resources like this please visit the SKILLSHEETS Shop
About this resource
Info
Created: Oct 17, 2015
Updated: Feb 22, 2018
By adding a School licence it allows you to share this resource with colleagues at your school. Without it, this resource is licensed for use only by you. Read licence details
Other resources by this author
Practice factoring quadratic expressions. Nine pages of questions where the answers have to be filled in. Includes examples where the coefficient o...
Skillsheets
8 worksheets that show what is meant by the slope of a line and how to work it out using a triangle. Draw and use the equations of straight lines i...
Skillsheets
Over 20 worksheets of simple activities involving money that are illustrated and designed for use mainly with adults and teenagers. Choose the righ...
Skillsheets
Popular paid resources
A selelction of resources to be completed before and during World Cup 2018. Can be adapted for different age groups. Match flags and capital cities...
cmrm33
Make a lesson that your students won't forget quickly! Make an escape room activity full of puzzles (digital or paper or mixed) that will keep them...
jusch12
A thirty minute quiz activity for testing subject knowledge, encouraging discussion, and generating enthusiasm in any classroom. Hardly any teacher...
ReallLanguages
New resources
This is a very useful and comprehensive resource for students studying A level Biology. A great refresher for the teacher too or someone teaching B...
beckystoke
Graphs are an important skill to assist in the understanding of a great range of situations in the study of geography. Old MacDonald's grand-daught...
KPolkinghorne
Two compound graphs of the US elections for students to analyse using a PEA format with extension/honours thinking task at the bottom.
simranj78
Updated resources
I've designed this for the whole school, specifically to celebrate Shakespeare's birthday. There are some video links for students to watch but the...
shakeycsuk
In this small resource pack, you will receive an A3 sheet on which the children must add their own pictures and drawings. There's a list of tasks d...
thingskeepchanging
All the Fortnite and Squishy resources in 1
simon fox