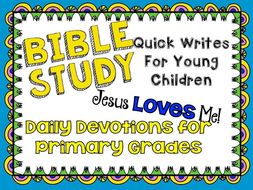 Bible Study for Primary Students - Printables - 126 pages
Bible Study Quick Writes are a fast and fun way for primary aged students to learn the Bible – while getting in some writing and word practice as they go. Students travel through Bible verses and the Lord's Prayer while getting an understanding of the goodness and strength of the Lord.

This 126-page devotional for primary students is perfect for warm-ups, as bell ringers, for whole class study and more. Both homeschool and private school students will benefit from learning the Bible in five to ten minutes per day.
Read more