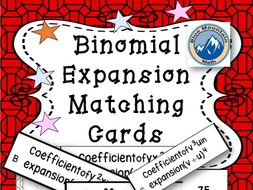 Binomial Expansion Coefficients Matching Card Set
Students practice using the coefficient in Binomial Expansions with this matching card set. This is a great activity used in pairs or small groups. One way to use these is as an exit ticket or entrance ticket as a fun assessment. Use them also as a "speed dating" activity. Students can use them individually to practice finding the coefficients.

More great ideas to use matching cards available in my free resource "Ways to Use Matching Cards"
Read more