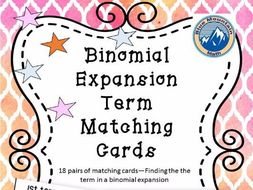 Binomial Term Matching Card Set
Students practice finding the specific terms in a binomial expansion in this matching activity. Half of the 18 cards have a binomial raised to a power with the term identified. The other half of the cards have the that term.

Cut apart and use for a single student or pair of students. You can use to pair up students for other activities. You can also use these cards as a ticket in the door or ticket out the door. Additional uses for these cards are explained in the directions or download my free resource.
Read more