C2 Material Choices: Building The Shard Tower!
This lesson looks at that materials used in building the Shard tower and the environmental impact of it's construction. Glass facade and recycled steel strcuture. 3 part lesson, could be made into 2 lessons/homework. Powerpoint presentation and accompanying information handout. Having science museum putty is an advantage but not essential. New materials, construction, C2, choices, environment, integration, promotion, London, how science works, using real life examples, cross curricular, chemistry, physics.
Last updated Jan 20, 2015, created May 28, 2012
Error occurred while adding this resource to your favourites list. Please try again later.
Ages
Categories
A great resource, very topical and fits in well to the new scheme. Thanks

Thanks, this is great because it is topical and fits in so well with ideas about properties of materials,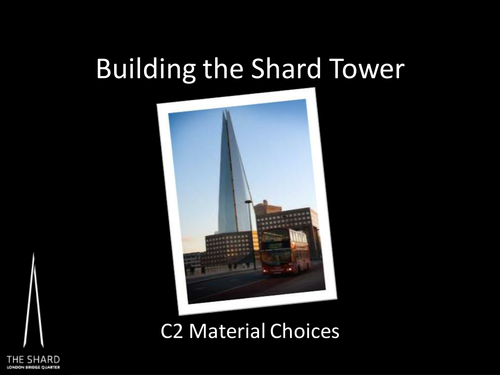 Downloads

1154

Views

3046

Created

May 28, 2012

Updated

Jan 20, 2015