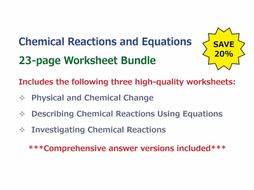 Chemical Reactions and Equations [Worksheet Bundle]
23-page bundle including the following three high-quality worksheets and activities:

1. Physical and Chemical Change
2. Describing Chemical Reactions Using Equations
3. Investigating Chemical Reactions

* Comprehensive answer versions included.

* Save 20% off individual prices.

This bundle is aligned to the Australian Year 8 Chemistry curriculum, but would be useful for other curriculums as well.
Read more
About this resource
Info
Created: May 6, 2017
Updated: Feb 22, 2018