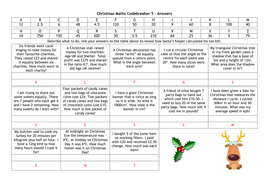 TES PICKS
Christmas Maths Codebreaker 5
Quite wordy questions but the maths is simple - crack the code to find the punchline to my (slightly lame) joke.
About this resource
Info
Created: Nov 26, 2015
Updated: Dec 7, 2015
Other resources by this author
Dealing with inequalities from representing on a number line to solving to shading regions.
alutwyche
This is designed to take the students from simple expanding a bracket to simple factorising to multiplying out two brackets to factorising quadrati...
alutwyche
A powerpoint taking you from chance and probability lines, listing outcomes, the probabiliy of an event not happening and tree diagrams.
alutwyche
Popular paid resources
Recommended by TES. There are 4 sets of questions (Number, Algebra, Shape, Data) which are mainly A and A* (with some lower grade questions from to...
kmbheck
A powerpoint looking at equations where there are two unknown values. First there are four examples using boxes to find the missing numbers, follow...
Magictrickster
A collection of 9 worksheets on algebraic fractions, including exercises on adding, subtracting, multiplying and dividing algebraic fractions, simp...
math_w
Updated resources
This download contains four sets of cards. Students choose a set and sort them into order by answering the questions. Then they try to do it faster...
Maths4Everyone
This carefully selected compilation of exam questions has fully-worked solutions designed for students to go through at home, saving valuable time ...
Maths4Everyone
Five carefully thought-out worksheets, which have helped many classes quickly develop competency with their equation solving skills. All of these s...
Maths4Everyone