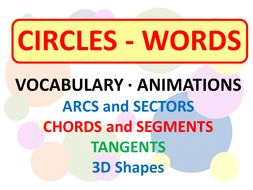 CIRCLES - Vocabulary
This colourful powerpoint uses diagrams, animations and photographs to introduce more vocabulary needed for working with circles e.g. chord, arc, sector and segment whilst revising the words introduced in 'Circles- Introduction' ( radius, diameter, circumference, centre, circular, semicircle ). It is aimed at GCSE students and below, both at foundation and higher level. The later slides show the connections between circles and 3D shapes and extend vocabulary to sphere, hemisphere, cylinder, ellipse, cone and concentric circles.

The slides have notes and suggestions accompanying them.

The worksheets further reinforce the names of different parts of circles and one is designed to make students draw and measure their own diagrams and introduces ideas they will meet later when studying circle theorems.

The video shows how to draw a hexagon by constructing it inside a circle using arcs. Some students find drawing circles very difficult and anything that motivates them to practise is useful.

DfE references for GCSE 9-1 G9, G1, G4, G12

G9 'Identify and apply circle definitions and properties, including : centre, radius, chord, diameter, circumference, tangent, arc, sector and segment.

See my other resource 'Circles - Introduction' which starts from the beginning with radius and diameter calculations, symmetry etc.

For more resources like this please visit the SKILLSHEETS Shop
About this resource
Info
Created: Aug 21, 2017
Updated: Feb 22, 2018
By adding a School licence it allows you to share this resource with colleagues at your school. Without it, this resource is licensed for use only by you. Read licence details
Other resources by this author
Practice factoring quadratic expressions. Nine pages of questions where the answers have to be filled in. Includes examples where the coefficient o...
Skillsheets
8 worksheets that show what is meant by the slope of a line and how to work it out using a triangle. Draw and use the equations of straight lines i...
Skillsheets
Over 20 worksheets of simple activities involving money that are illustrated and designed for use mainly with adults and teenagers. Choose the righ...
Skillsheets
Popular paid resources
A self-contained game to be played in pairs. Use to revise reading coordinates on a grid. Best played once coordinates have already been introduced...
Miss-Becky
There are about 17 (practical and fun) lesson activities, tasks or worksheets to cover the following 2014 objectives: Recognise angles as a propert...
jreadshaw
Differentiated worksheets for children to complete. Each worksheet contains photographs of shapes that the children must construct then answer ques...
juliannebritton
New resources
GCSE Mathematics 9-1 Higher tier. Includes SMART Notebook lesson and two accompanying worksheets with answers. Lesson outcomes covered: 1. To be ab...
Bluesky62
Inspired by aap03102 and his excellent relays https://www.tes.com/teaching-resource/maths-relay-races-problem-solving-puzzles-6064073 I created thi...
whistleandsums
Here is another set of transformation pictures that will create a lovely Christmas scene. There is a reindeer and Christmas tree which only require...
dave789
Updated resources
Suitable for KS3 and KS4. This lesson was used as part of an observation. The lesson features a starter, main, and plenary all fully differentiated...
sabmer
Four differentiated worksheets for changing cm to m and cm Drawing a line in cm
thesubteacher
I created this resource for my set 1 class in year 8 and year 9 class to revise the topics covered so far this term. Includes: Standard Form, Nth t...
Jules-Maths