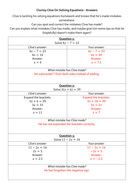 TES PICKS
Clumsy Clive On Solving Equations
Clive has made mistakes on his homework again. There are equations involving brackets, fractions, letters on "both sides" and different mistakers in each. This is to test students' understanding of solving linear equations and is designed to test typical mistakes and encourage discussion about these.
About this resource
Info
Created: Apr 14, 2017
Other resources by this author
Dealing with inequalities from representing on a number line to solving to shading regions.
alutwyche
This is designed to take the students from simple expanding a bracket to simple factorising to multiplying out two brackets to factorising quadrati...
alutwyche
A powerpoint taking you from chance and probability lines, listing outcomes, the probabiliy of an event not happening and tree diagrams.
alutwyche
Popular paid resources
A self-contained game to be played in pairs. Use to revise reading coordinates on a grid. Best played once coordinates have already been introduced...
Miss-Becky
Recommended by TES Panel. An investigation which allows the learners to find the rules for transformations plus some example questions. PLEASE REVI...
kmbheck
2018 VERSION NOW AVAILABLE HERE! (copy and paste link) https://www.tes.com/teaching-resource/new-2018-ks2-sats-revision-ultimate-3-in-1-maths-organ...
ambowers2
Updated resources
This resource has been designed for week 12 of the summer term to consolidate the work undertaken in the White Rose Maths Scheme, small steps Year ...
Krazikas
Another little activity for AFL, revision or a plenary. Can be done with mini whiteboards and adaptable to voting systems Aimed at KS4 multiple cho...
commuter
Differentiated RAG Exit tickets on changing the subject of a formula. Students were able to pick their own level of difficulty, and were required t...
missjhross