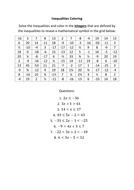 Coloring Mathematical Inequalities
I had nothing other than exam questions for inequalities so thought I'd try and come up with something a little more colorful. You solve the inequalities and color all the integers in the grid that satisfy the inequality to reveal a mathematical symbol.
About this resource
Info
Created: Jan 26, 2012
Updated: Aug 19, 2015
This resource is designed for US teachers. View UK version .
Categories & Grades
Other resources by this author
Dealing with inequalities from representing on a number line to solving to shading regions.
alutwyche
This is designed to take the students from simple expanding a bracket to simple factorising to multiplying out two brackets to factorising quadrati...
alutwyche
A powerpoint taking you from chance and probability lines, listing outcomes, the probabiliy of an event not happening and tree diagrams.
alutwyche
Popular paid resources
A self-contained game to be played in pairs. Use to revise reading coordinates on a grid. Best played once coordinates have already been introduced...
Miss-Becky
Recommended by TES Panel. An investigation which allows the learners to find the rules for transformations plus some example questions. PLEASE REVI...
kmbheck
Recommended by TES. There are 4 sets of questions (Number, Algebra, Shape, Data) which are mainly A and A* (with some lower grade questions from to...
kmbheck
New resources
Inspired by aap03102 and his excellent relays https://www.tes.com/teaching-resource/maths-relay-races-problem-solving-puzzles-6064073 I created thi...
whistleandsums
I give this to the students (printed in A4 or A5 depending on how much room they need) at the end of the lesson to assess an overview of the lesson...
brodieburton
A helpsheet showing worked examples of how to solve equations with unknowns on both sides using two approaches; balancing or change sides change si...
JamesCMartin
Updated resources
A collection of Tarsia style jigsaws in a single PowerPoint file. Jigsaw pieces can be dragged and dropped on PowerPoint slides as a whole class de...
RUN DMC
Students and parents find this Information and Record Book very useful (it's probably of use to teachers too). The references I use for the topics ...
Maths4Everyone
SATs preparation for 2018. These topic-focused SATs questions have fully-worked solutions suitable for whiteboard display or sending home to parent...
Maths4Everyone