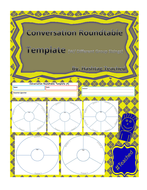 Conversation Roundtable Template (with Group Sizing 2-8 students variations)
Facilitate your conversation roundtables discussions with this simple and self-explanatory template. Students will record their notes for each of the three other students at their roundtable and then reflect on their conversations by creating one coherent summary statement at the bottom. There are four differentiated versions with different sized spacing, bullets, and blank space for you to meet the needs of your specific students but still maintain uniformity in expectations.

Have just 4 students in each conversation roundtable and want to differentiate that single format? Check out my alternative product that has a variety of versions of the 4 student roundtables.
Read more