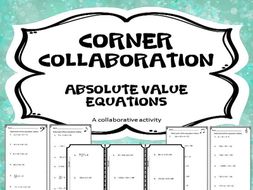 Corner Collaboration Absolute Value Equations
Students practice solving absolute value equations with this activity. Students work with their home groups to help each other solve the equations, then when the timer goes off, move to their designated corner to collaborate with different students using this Kagan strategy.

When they have compared thier answers, corrected any problems, class debriefs and teachers uses the included exit ticket to check for understanding.
Read more