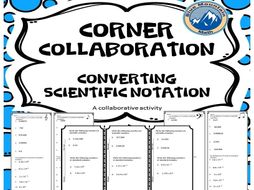 Corner Collaboration--Scientific Notation
Students convert between standard notation and scientific notation in this collaborative activity. Students work in home groups to complete their worksheet, 1 of 4 variations included. Set the timer to your students needs.

When the timer goes off, students meet in one of the four corners to collaborate with a new group to compare answers, correct errors and improve discourse.
Read more