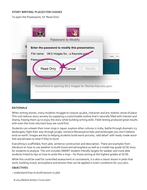 Creative Writing Unit for All Abilities: 53 Beautiful Images KS3 KS4 New GCSE
When writing stories, many students struggle to conjure up plot, character and any realistic sense of place. This unit reduces story-anxiety by supplying a customizable plot outline, freeing them up to enjoy the story while building writing skills.
53 beautiful PowerPoint images allow students to unleash their inner ninja in Japan or fight their way through jungle, with ready-made word-lists and phrases to help.

Everything is scaffolded, from plot, sentence construction and description. There are examples from literature on how to use weather to build mood and atmosphere as well as a model top grade GCSE story for students to analyze. The unit includes SMART student-friendly targets for weaker and more able students linked to tips on how to write like a ninja – for those aiming at the highest grades at GCSE.

Read more