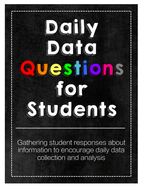 Daily Data Questions for Students
This is a set of question cards designed to get students used to giving answers and collecting data on a daily basis. Questions can be simple or require a more critical thinking approach, but all questions require a yes or no answer. Simply print out, laminate, and cut the cards, being sure to post a new question each day. Provide 3 containers beneath where the daily question is posted, (1 for yes, 1 for no, and 1 for holding counters such as pennies, marbles, cubes, etc...). When students enter class they read the question, select a counter, and place it in the container for yes or no dependent on their answer. Assign one student daily or weekly as the tallier who must go and total the counters for yes and no. being sure to record it as well.

Please make sure to rate and leave feedback!
Read more
About this resource
Info
Created: Aug 22, 2016
Updated: Feb 22, 2018