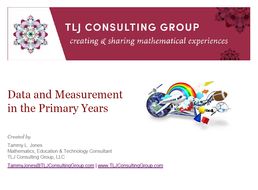 Data and Measurement in the Primary Years
Primary mathematicians need opportunities to work with data. Making connections to measurement and literature support building deeper understandings. Five activities, some with literacy connections, five formative assessments, and two investigations are provided.

This resource is good for students with Dyslexia and language-based learning deficiencies. We'd like to hear about your experience with our resources. Just give it a star rating then tell us what you think, simple as that!
Read more