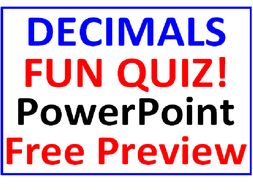 Decimals PowerPoint Fun Quiz FREE PREVIEW
DECIMALS POWERPOINT FUN QUIZ FREE PREVIEW

* Imagine a program that is SELF-CORRECTING ~ THIS ONE IS!

* Imagine a program that STARTS ALL OVER AGAIN if they get even one answer wrong! THIS ONE DOES!

* This FREE PREVIEW of 29 slides will give you an idea of how this program works.

* There are 54 slides in all - DECIMALS!

* For individual or small group use. A fun effective way to reinforce their decimals.

Designed and created by David Filipek.
Copyright© 2017 David Filipek
All rights reserved by the author.
Permission for downloads to copy for single classroom use only.
Electronic distribution limited to single classroom use only. Not for public display.
Read more