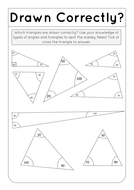 Drawn Correctly? - Angles in a triangle
Students are shown 8 triangles. They have to assess if the traingles shown are mathematically valid. Some of the triangles do not add up to 180 dregrees. Some triangles have clear acute angles lables as obtuse angles. As an extention, some pupils can give written reasons WHY some of the traingles are not correct. NOTE: These are not drawn to scale, and are not to assess students ability to measure angles with a protractor. They are as a test of student's knowledge about the internal angles of a triangle.
Read more
Report a problem
Creative Commons "NoDerivatives"