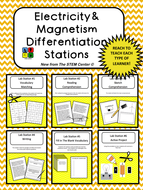 Electricity and Magnetism Differentiation Stations
Electricity and Magnetism Differentiation Station

The Electricity & Magnetism Differentiation Stations is a product consisting of six different stations for enhanced student learning. The stations include a hands on activity where the students builds a model generator, vocabulary matching center, multiple choice questions, sketching, constructed response, and fact cards.

........................................................................................................

How It Works:

Station 1- Vocabulary matching game allows students to match key vocabulary terms with definitions.
Station 2- This station allows students to read an article focusing on the main topic to answer multiple-choice questions.
Station 3- Students are given the opportunity to sketch major concepts.
Station 4- The student reads a passage and then writes constructed responses.
Station 5- Students read provided fact cards and writes down the correct vocabulary term.
Station 6 – Students cut out the seven continents and construct a paper model of an Electric Generator.
Read more
About this resource
Info
Created: May 21, 2016
Updated: Feb 22, 2018
Get this resource as part of a bundle and save up to 36%