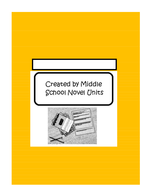 End Marks and Capitals Mini Lesson Unit
This unit consists of 36 mini lessons (one per week for the entire school year) to be used during the first few or last few minutes of the class period. A great way to keep your students caught up on basic skills!

This unit is designed to be used with students in grades 4 - 8. The pages can be reproduced to be used as handouts, as overhead transparencies, or projected onto a screen. Answer Key Included.
Read more