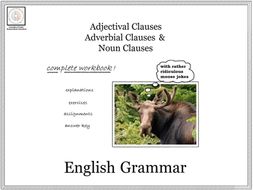 English Grammar: Adjectival, Adverbial and Noun Clauses (B&W)
Here is a fully black and white version of the book, with a more mature format for older students. This humorous book will give any student a thorough understanding of the three main types of subordinate clauses: adjectival, adverbial and noun clauses. In 35 pages of definitions and explanations, examples, exercises and assignments, you will learn about and practise using these clauses in your own writing. Also included is a 16 page answer key. (Exercises and assignments are to be completed in a separate notebook.)

In this book you will:
• Learn about main clauses and subordinate clauses
• Learn to identify and write your own adjectival, adverbial and noun clauses
• Complete 31 exercises and 20 assignments
• Hone your skills with extra review exercises and assignments at the end of the book
• Enjoy whimsical (and ridiculous) references to moose . . .

In each section:
• Adjectival Clauses: Learn to identify relative pronouns; know when to use 'who' and 'whom'; determine whether the relative pronoun acts as a subject or direct object within the clause; learn when to use 'which' and 'that'; learn when to use 'who' or 'which/that'; learn about possessive adjectival clauses; understand the difference between a question and an adjectival clause; learn about relative pronouns preceded by prepositions
• Adverbial Clauses: Learn about subordinating conjunctions; understand the difference between an adjectival and adverbial clause; learn to identify and use clauses of time, place, manner, condition, concession, and cause; learn to differentiate between clauses of various types; learn to identify sentences containing different types of clauses
• Noun Clauses: learn to identify and use noun clauses; learn about noun clauses that behave as direct objects or complements; learn about noun clauses that behave as subjects; noun clauses in reported speech
• Extra Review: combine all your new knowledge and skills in several exercises and assignments
• Answer Key: contains answers for all exercises. Answers to assignments will be unique to each individual.

Knowing how sentences can be constructed is an invaluable tool for any student or writer. Improve your English Grammar, and learn how to protect your wool socks from an intrepid moose, all in one book!
Read more