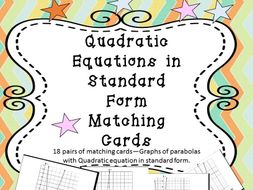 Equations in Standard Form Matching Cards
Students have practice identifying quadratic equations in standard for to their graphs in this matching card activity. These cards are larger than many of the other matching card sets I use. There are 20 pairs of matching cards in the set, half the cards have the parabola graphed and the other half has the quadratic equation in standard form.

Great for use with pairs or small groups or use in centers. Find more uses in my free resource "Ways to Use Matching Cards"
Read more