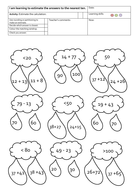 Estimation KS1: estimate the calculation and match sums to answers.
I am learning to estimate the answers to the nearest ten.
Use rounding or partitioning to make an estimate.
Decide which answer is closest.
I am learning to use estimation to check the answers to questions.
Look at the range of numbers for the answer.
Read more