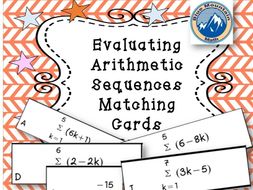 Evaluating Arithmetic Sequences Matching Cards
Students practice evaluating an Arithmetic Sequence when written in Sigma Notation in this set of 18 matching cards. On half the cards is the sequence written in sigma notation and the other half has the sum. Great for use in pairs or small groups or use as exit ticket. You can also use these as a speed dating activity where students take turns explaining the solutions to each other.

Find other ways of using these cards in my free resource : Ways to use Matching Cards.
Read more