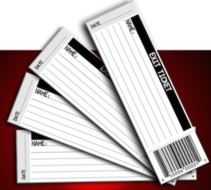 Exit Ticket or Ticket Out the Door Template
Exit Tickets or Ticket out the Door as they are also called, are a great way to give teachers a snapshot of the overall student learning, "caught what you taught." Before students leave, they have to hand you a "ticket" filled out with an answer to a question, a solution to a problem, or a response to what they've learned. This is a wonderful formative assessment device. This template provides enough space for their name, date and answer.

More to come. "Follow me" to be the first to know about new products and free stuff.
Read more